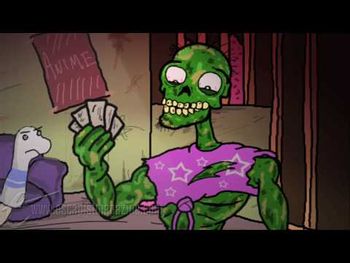 The sun came up and the bombs came down, nuclear fallout in a southern town, Apocalypse Lane you still look alright to me.
Apocalypse Lane is an animated web series created by Jon Etheridge and Bryan Mahoney for The Escapist. It details the lives of a number of "people" who have survived the Apocalypse, all living in one cul-de-sac. It starts out fairly episodic, but develops a plot later on. It used to update every Thursday at noon, and episodes range from about 4.5 to 8 minutes in length. Episodes can be found here
.
The cast of characters includes:
Steve: A relatively normal-looking guy with a sentient tumor named Marty on his shoulder. It is later revealed that Steve is the tumor, and Marty is the original being he grew out of. He has an on-and-off relationship with Knife Fight.
Cuddles: A talking, three-legged cat. He loves to smoke cigars, drink, play poker and crap wherever he wants.
Gladys: An

alien

elderly woman with tentacles for arms. Keeps bugging Steve about his roof (or lack thereof).
Willy: An irradiated zombie cyborg who also happens to be stereotypically homosexual. His sexual tirades are about as unsexy as you can get.
Hickey: The pastor, who advocates the worship of "The Rooster," the symbol of which is the rooster-shaped wind vane on top of one of the houses. He has a sock puppet named Stinky, which appears to be a separate being from Pastor Hickey and far more belligerent. When he drinks rum, he becomes a pirate; when he drinks a vodka martini, he becomes James Bond (as played by Sean Connery).
Big Worm: The friendly neighborhood giant

alien

worm. Likes watching Mouseass a bit too much.
Knife Fight: Steve's old flame, former leader of a gang. Often mistaken for a Butch Lesbian, though she is proud of her muscles.
The Gamerz: Currently the most feared gang in the United States. Seemingly harmless, but actually most (if not all) are Ax-Crazy. Includes:

Humangoid

/ Big Pete

: The Master of the Gamerz

at least until the mutiny

. A stupid git with a lot of extra mass and almost zero shame. No one questions his authority, though, even when he gives everyone bizarre nicknames.

He's also a cyborg!

N: A sentient NES. The actual reason the Gamerz still function as a gang, constantly exasperated by Humangoid.
Pumper: A jackalope(?) with a stick for shocking people and a sick sense of humor. Sounds remarkably like Kirby from There Will Be Brawl.
Twitchy: The stereotypical nerd gamer. His weapons are a modified Power Glove and an NES Zapper.

Frank: Willy's old lover. He also happens to be the owner of a gas station

and a gecko

.
Also, Barack Obama shows up... and he hasn't done too well since the apocalypse. He's still the President, but he's become a little... unhinged. He is advised by Rico,

a mutated Mexican cockroach.

The Franklins. They are the epitome of creepy neighbors...

until it is revealed that they're Marty's parents.

Gulliver the vulture. Unadulterated horror.
---
This animation provides examples of:
"You know, normally I hate all of you guys, but when I'm taking your stuff... well, I feel like there's a bond."
Stinky also counts

even though he's actually just a part of Hickey's psychosis.
Willy: Well, that was an uneventful trip.
Father Hicky: Four, three, two, one...
(Frank, Pumper, and Twitchy burst in)