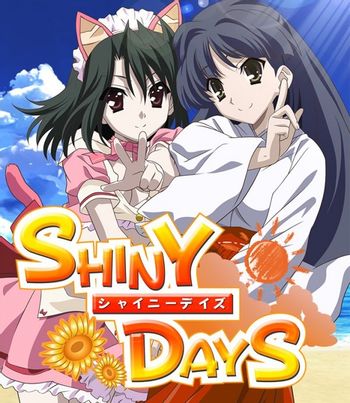 Shiny Days is a spinoff of the (in)famous Visual Novel School Days in which most of the yandere murder fun has been traded for backstabbing shenanigans and a focus on subheroine Setsuna. At the beginning of the story, Sekai catches a cold that later turns out to be the mumps. She forces Setsuna to take over her waitress job until she recovers, a prospect that Setsuna dreads. However, it's not all bad. Though Sekai wasn't serious about it, it turns out that her workplace is quite close to where Setsuna's crush lives and after a horrible first day, she meets him on the beach, after which she begins meeting him every day after work.
The story is told both from the perspective of Setsuna and Makoto, but the latter is the one who makes all the plot decisions on how the story will play out. As such, while the story builds up to dating Setsuna, it's also possible to take numerous different branches of the story, including possible scenes with both main heroines of School Days, subheroine Otome, numerous side characters and even the mothers of Setsuna, Sekai and Kotonoha.
Finally, Shiny Days is itself built on the earlier release Summer Days and includes a bonus route focusing on the new heroine Inori. In this story route, while you are not forced to end up with Inori, you actually cannot end up with main heroine Setsuna.
Shiny Days was released in English by JAST in September of 2015 with certain questionable content removed, though there is a restoration patch for it.
---
This visual novel provides examples of:
---