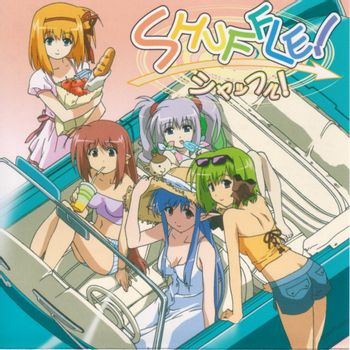 Eustoma:
To put it plainly, you can choose to become king of the gods, or king of the demons. If you pick my Sia, you can use the power of the gods as much as you want!
Forbesii:
But choose Nerine, and all the power of the demons will be yours to use however your heart desires.
Rin:
*Gulp*
— "The Man Who Could Become a God or a Demon!"
SHUFFLE! is an H-Game developed by Navel that was adapted into a successful Harem Anime by Asread. The series is notable for its vivid character designs, catchy tunes, and interesting plot twists. While still a comedy, SHUFFLE! is far more emotional than many of its counterparts in the harem genre.
The series is set in a world much like our own, but which diverged from ours when, about a decade previous to the start of the story, a gateway to the world of the demons and the world of the gods appeared (in spite of their names, the gods and demons aren't any more or less evil or good than humans, the only difference from humans being their ability to use magic and their pointed triangular ears, and the only difference between the gods and the demons being the length of the ears). Gods and demons begin migrating to Earth, and in spite of the presence of magic and non-humans, everyday life continues on much as it had before.
The story starts when the ordinary lives of Rin and his childhood friend Kaede is disrupted by the arrival of the king of the gods and the king of the demons, both of whom have decided the human Rin is to be the heir to their kingdoms... meaning that they each want him to marry their respective daughters, Lisianthus (Sia) of the gods and Nerine (Rin again in the Japanese version, Rina in the dub to avoid confusion with the Unlucky Everydude) of the demons. Soon thereafter the mysterious, emotionless Primula (or Rimu/Rim) shows up. Together with Kaede's senpai Asa, these are the five girls from whom Rin must choose his girlfriend.
There's also a second season, SHUFFLE! Memories (which is basically a recap of the first anime), an Updated Re-release named Shuffle! Essence+ and three spin-off games: Tick! Tack!, Really? Really! and SHUFFLE! Love Rainbow. The original game, Tick! Tack! and Really? Really! were officially released in English by Mangagamer.
In May 29, 2020, a sequel was released on PC.
Please move any character tropes to the proper character page.
---
This work provides examples of:
---