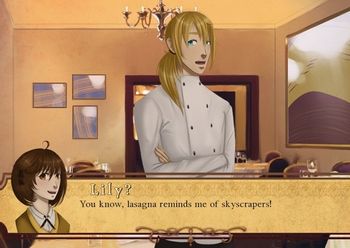 Ristorante Amore
is a freeware
Ren'Py
otome game
by
Cyanide Tea
in which you take on the role of
Lily Kingston
, a recent college graduate who has just started work as a waitress at her uncle's high-class Italian restaurant. Though she's clumsy and has a lot to learn, Lily finds good friends in her co-workers: the serious and hard-working Ethan, the princely sous-chef
Pierre
, the fun-loving jock
Liam
, and the cute but shy waiter
Laura
.
The game is divided into two sections, dubbed the prologue and the post-prologue. It can be downloaded here
.
The post-prologue folder contains unmarked spoilers. Tread with caution.
---
open/close all folders
Prologue
Cute Clumsy Girl: Lily routinely drops entire stacks of plates and messes up orders. Laura is also inexperienced and careless on occasion.

Pierre comments in the post-prologue how

a real restaurant

would never hire people like them, and he's probably right.
The authors likely intended for Lily's clumsiness to be Up to Eleven to poke fun at regular clumsy otome heroines. Lily breaks hundreds of dollars of fine china on a near-daily basis.
Pastimes Prove Personality: Lily reveals to Ethan her passion for architecture, which leads him to believe she's not as dumb as she lets on.
Post-prologue
---