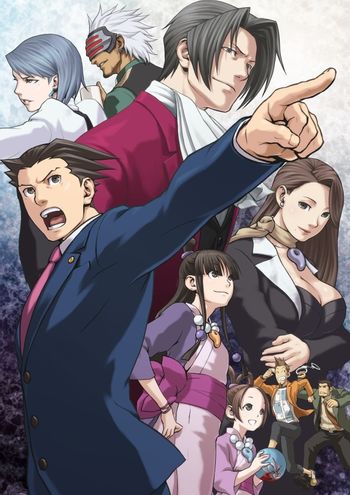 "Why did I become a lawyer in the first place...? Because someone has to look out for the people who have no one on their side."
— Phoenix Wright, "Turnabout Sisters"
The first three games in the Ace Attorney series star Phoenix Wright, a sympathetic, easily flustered Perry Mason-type with Anime Hair, who digs deeper into the mysteries surrounding his clients' cases (which always seem to involve murder), butts heads with a host of eccentric characters, discovers clues and evidence the police miss, and uses those clues in court to force the truth out of witnesses and discover the true perpetrators. He fights alongside his late mentor, Mia Fey, and her Genki Girl sister Maya Fey. They were originally developed for the Game Boy Advance, with the exception of the fifth case of the first game, "Rise From the Ashes", which was created for the Nintendo DS remake, known as Gyakuten Saiban: Yomigaeru Gyakuten (Turnabout Trial: The Revived Turnabout) in Japan. The game plays out in a Visual Novel style through the perspective of Phoenix Wright during investigation sessions, where the player can talk to other characters, present evidence, and find clues to build up their case. Usually the next day, court begins, where the player cross-examines witnesses to find contradictions, eventually forcing the real culprit to confess. The bonus 5th case of the first game took advantage of the touch-screen and mic on the DS allowing for more in-depth investigations on evidence, which is used in later titles in the series that require a system with a touchscreen.
The eponymous first game of the series chronicles Phoenix's first cases, Mia's death, and Phoenix's first battles with prosecutor Miles Edgeworth and his abhorrent tactics, culminating in a fierce face-off with Edgeworth's mentor, the legendary Manfred von Karma. The aforementioned extra case, Rise From the Ashes, ties the plot with the second series together. In 2010, it gained a U.S. iOS port
. A live-action movie directed by Takashi Miike was released in theaters in Japan in February 2012 based mainly on the events of the second and fourth cases of the game. An anime adaptation began on April 2, 2016 that focuses on the first two games of the series, with a second season in 2018 adapting the third.
The second game, Phoenix Wright: Ace Attorney – Justice for All, introduces von Karma's prodigal daughter, Franziska von Karma, out for revenge after the events of the first game. Phoenix must defend an array of new and wacky clients, including chronically unlucky cop Maggey Byrde and famous yet dim TV star Matt Engarde. The game features a new element known as Psyche-Locks, where the player is able to break characters' metaphorical "locks" that enshroud secrets that they hide. The game also replaces the five-strike system for a virtual health bar where the amount of health lost varies based on the seriousness of the error the player makes. Plus, the player can present profiles in addition to evidence. Near the end, the game also highlights the nature of the relationship between Phoenix and Edgeworth. (No, not like that...)
The third game, Phoenix Wright: Ace Attorney – Trials and Tribulations, excitingly culminates the series by further exploring the background of Mia, Maya, and Phoenix by way of the mysterious coffee-guzzling prosecutor Godot. The Kurain Channeling Technique, which was given less attention in the previous games, becomes the focus of the entire plot as the entire series ties together for an epic climax. The game also features two flashback cases where the player character is Mia, while Phoenix is a mere college student dating the sweet and demure Dahlia Hawthorne. And, for a portion of the last case, Miles Edgeworth steps into Phoenix's shoes.
The games were originally released for Game Boy Advance, and then ported to Nintendo DS and Japanese PC. DS versions were then ported to the Wii as downloadable titles on WiiWare, featuring a modified, Wii-specific control scheme that permits the use of hand gestures with the remote. A further Updated Re-release featuring all three games was released for iOS and Android in February 2012 Japan and May 30, 2013 in all other regions, targeted primarily at the iPad and replacing the pixel art in the GBA and DS games with scanned versions of the original character drawings (entitled Gyakuten Saiban 123 HD in Japan and Phoenix Wright; Ace Attorney Trilogy HD in English). Another compilation of the three games for the Nintendo 3DS (featuring the crisper sprites from the iOS version with improved animations and corrected music as well as some mild 3D effects) was released in Japan April 17, 2014, in NTSC countries December 9th, 2014, and in PAL countries December 11th, 2014 (entitled Gyakuten Saiban 123: Naruhodou Selection in Japan and Phoenix Wright: Ace Attorney Trilogy in English). The compilation was released for non-Nintendo consoles for the first time in 2019, as it made its way to the Nintendo Switch, PlayStation 4, Xbox One, and PC (this time worldwide) via Steam.
A character sheet for the whole series can be found here.
---
open/close all folders
General Tropes
All three games provide examples of:
Phoenix Wright: Ace Attorney
Phoenix Wright: Ace Attorney provides examples of:
Phoenix Wright: Ace Attorney – Justice for All
Phoenix Wright: Ace Attorney – Justice for All provides examples of:
Added Alliterative Appeal: Franziska's "You huffy, puffy, loosey-goosey excuse for a whimpering whining wuss of a witness", with some good ol' rhyming added for good measure.
Adult Fear:

Celeste Inpax

gets burned by two different people because of this and

kills herself over it

, and

Juan would have found out that Adrian was just using him if he hadn't gotten killed (though plenty would argue that he was worse than her

.
It's sort of averted when you find out in the third case that

Regina getting Bat "killed" was an accident

.
Case 4. The scenario of

defending a client who is clearly guilty and having your dear friend and assistant's life depend on his acquittal

is terrifying. Just ask real attorneys, who will most likely find themselves defending a guy

like Matt

at some point. The scary and sad part comes when the miracle most likely won't ever happen for them.

Anachronic Order: The second case is set before the first case.
And There Was Much Rejoicing:

Once Shelley reveals his new plans to target Matt Engarde for his betrayal and releases Maya, pretty much both sides of the courtroom then proceed to verbally beat the crap out of him.

Arson, Murder, and Jaywalking: In the aftermath of 2-1, Maggey details some examples of how bad her luck has been during her life, including: getting food poisoning from almost every kind of food, being subjected to almost every kind of natural disaster — and never, ever having won a game of tic-tac-toe.
Asshole Victim:

As mentioned elsewhere, Dr. Grey. While there is a degree of Jerkass Has a Point (as Mimi DID cause the malpractice), he still has a large degree of responsibility since he overworked her to the point of exhaustion in the first place. That's not even mentioning his reason for the channeling, which is to force Mimi's spirit to admit full responsibility for the malpractice to clear his own reputation.
Juan Corrida. By all accounts, he wasn't a very nice person. We never get the chance to see if he was nearly as bad as The Rival Matt Engarde, but at the very least, he was willing to break it off with his (emotionally insecure) fiancee for the sole reason of her being Engarde's ex, then use her resulting suicide as a tool to try to tank Engarde's reputation.

Avenging the Villain: Phoenix wonders if Franziska von Karma wants to avenge her father Manfred, who was put in jail thanks to Phoenix. Subverted in that she eventually reveals that she didn't give a crap about her father's downfall; the entire rivalry was simply for satisfying her ego by besting Phoenix when Edgeworth couldn't. The Freudian Excuse was that she wanted to defeat Edgeworth all along.
Bait-and-Switch Boss: Franziska is all set to enact her revenge on you in the final case until

de Killer shoots her and Edgeworth makes a dramatic return, taking up the case

.
Bait-and-Switch Credits: The opening scene and first 10 or so minutes of "Farewell, My Turnabout" purposely mislead the player into thinking that this case will be like the first game's "Turnabout Samurai" (even featuring Will Powers and Wendy Oldbag, two characters from that case), so that

Maya's kidnapping and everything else that follows

hits the player hard.
Bears Are Bad News: Juan Corrida is strongly associated with bears (most likely due to a PR move) and his room is full of nearly every bear-related object known to man. The whole reason he is killed is because

Matt discovered Juan had a fake suicide note written by "Celeste" that would have ruined his image. The note was hidden in a bear which was to be given to Matt after Juan was murdered

. And

the camera hidden inside of the bear's eye ends up an incredibly crucial piece of evidence, because it recorded the murder as it happened to potentially blackmail the killer

.
Beauty Equals Goodness:

Matt Engarde

appears both innocent and good-looking. In reality, there's a hidden disfiguring scar and a concealed guilt.
Beneath the Mask: Everyone in the fourth case except Wendy Oldbag is hiding a big part of their personality:

Adrian

was initially shown to be a confident, capable manager, before she is outed to be a dependent woman who latches onto others' words as though they are her own

.
Matt

was shown to be a ditzy actor with a "refreshing like a spring breeze" persona, whereupon he proves to be a misanthropic killer who trusts no one. He even literally masks the side of his face for half of the case

.
Juan,

a popular kids' show actor who probably destroyed Celeste's suicide note and forged a new one implicating Matt Engarde, and was going to present it under Matt's disguise

.
The bellboy

is Shelly de Killer, a professional murderer hired by your client to finish Corrida

. He's calm and polite no matter the situation, though.
We see that under her cold, merciless, reckless, smug, and arrogant nature,

Franziska von Karma

clearly has a huge Inferiority Superiority Complex.

Berserk Button:

Whatever you do, don't accuse the Judge of being the murderer. The results won't be pretty.

Judge: GWWWWAAAAHHHH!!
Judge: WHAT DID YOU JUST SAY TO ME!? THAT'S A PENALTY!! (45% penalty)
Phoenix: Arrrgghhh!
Judge: WHAT'S THAT!? YOU WANT A DOUBLE!? HERE YA GO!! (50% penalty)
Phoenix: Double arrrggghhh!! note

Franziska doesn't react too kindly to getting accused of being the murderer. Fortunately, you only get a standard penalty if you do that, but you also get the mother of all whippings to go with it.

Big Bad: Franziska von Karma, although she never goes to the same underhanded lengths her father did.
Bitch in Sheep's Clothing: Although any good mystery story requires some criminals who don't seem like criminals at first, such as

Miss Miney

, the crowning example is

Matt Engarde

.
"Blind Idiot" Translation: The English translation of this game was riddled with typos, such as "surly" for "surely" and "alter" for "altar." It also included the infamous, memetic bad ending line "The miracle never happen". The iOS port is even worse, at one point calling a piece of evidence a "Hotel Guidernap."
Book-Ends: The first and last days in court overall both open with Phoenix having the same nightmare (of a monstrous Judge declaring him unfit for his attorney's badge, before crushing him with a giant gavel). The first time, it is seemingly caused by a menacing ringtone. The second time adds some more relevant context:

Phoenix knows his client is guilty, but he has no choice but to obtain a verdict of "not guilty" in order to save his friend. As such, he feels he is no longer worthy of his badge

.

Both the first and last trial days involve a romantic relationship with no actual romance, a meaningful gift that ends up being key evidence, the male party dying and his crime scene tampered with, and some writing from the deceased that turns out to be a forgery.

Even the way the final witnesses of those trials are introduced in a similar manner, despite two different prosecutors giving the same warning about two very different witnesses.

Break the Cutie:

In 2-3, Moe the Clown brings the ultra-sheltered Regina to court on the day

Acro is to be revealed as the true criminal specifically for this purpose, so that she can understand both the truth of her father's death and her own responsibility for Acro and Bat's injuries

. She cries at the end of the trial and realizes some hard truths, but the fact that during the credits she seems to think Zimbabwe is full of talking bunnies and castles made out of cake, it seems uncertain that the change stuck.
In 2-4,

Adrian Andrews

applies. Not to mention Maya Fey, who gets accused of murder once per game, along with

getting kidnapped

in this case, and many other things throughout the series.
It seems the whole game was this for

Franziska von Karma, whose worldview and obsession with perfection are not only challenged by two losses, but by Phoenix willingly and happily accepting his first defeat in court

.

Camp Straight:

Maximilian Galactica has bright pink hair, sequinned makeup, calls everyone (including Phoenix) sweetie, has the Catchphrase "Fabulous!"... and is totally in love with the very Moe Regina Berry. Although his metro-persona seems to be a mask to hide his Deep South, Good Ol' Boy past.
Maya refers to the ringmaster as metrosexual after getting a glimpse at his makeup collection...

Chekhov's Gun:

The scrap of paper in the ringmaster's coat in 2-3. Maya spots it the first time she sees the coat, but Phoenix tells her to quit snooping around in other people's things. The next day, it turns out to be an important piece of evidence.
Franziska reveals to Phoenix in Case. that she placed a tracking device on Gumshoe to keep an eye on him (and to whip him as soon as possible).

When Gumshoe gets in a serious car crash while carrying crucial evidence and breaks his phone in the process without any conventional way of finding him, Phoenix asks to get Franziska out of the hospital so she can use the tracking device to find him.

The Big Berry Circus tent becomes a huge plot point in the final case as

Maya as Mia spots it from Shelley's new hideout and gives the search party a basic idea on where Maya is based on other descriptions. Even though they don't find her as Shelley ran away with Maya again, they do find three pieces of evidence he left behind in a hurry, one of which is practically Matt's death warrant.

Circus Episode: The third case is about a murder at the Berry Big Circus.
Clean Dub Name: Juan Corrida's last name is Spanish slang for... male ejaculation. That's probably why it was changed to Rivera in the Spanish translation.
Contrived Coincidence: Three of them make Phoenix's case harder (and reinforce Maggey's Butt-Monkey status) in Case 2-1:

Maggey and Richard having the same exact eyeglass prescription (which leads to Maggey being accused of murder when Richard's glasses are found underneath the victim), Phoenix and Richard having the same exact phone model and color (leading to Richard accidentally swiping Phoenix's phone after he attacks him when he meant to grab his own), and Maggey happening to accidentally step on her glasses and break them around the same time the pair of broken glasses was found underneath the victim

.
Cry Cute:

Franziska von Karma

in the post-credit epilogue of the good ending, finally accepting defeat to Phoenix, but vowing to return.
The Cutie: Regina, to a ridiculous extent.
Cycle of Revenge: Case 2-4 is one springing from a cycle of petty one-upsmanship between two actors that catches some bystanders up in it as collateral damage. Matt reveals to Juan that his fiance is Matt's ex. Juan breaks it off with her, which causes her to commit suicide. Juan then forges a suicide note detailing Matt's wrong-doing, which Juan hides to use later. Her protegee, Adrian, begins seeing Juan to get close to him to find the note and burn it to save her further disgrace. Juan plans to publish the note as payback, but Matt has him killed first, and Adrian tries to frame Matt directly for the murder his assassin carried out, to make sure he doesn't get away.
Deadly Delivery: In case 4,

Shelly de Killer, the murderer of Juan Corrida, disguises himself as a hotel bellboy delivering tomato juice to get into his target's room

.
Dead Man's Chest: An unusual version of this trope occurs in the second case when

Mimi locks Maya in the chest and then proceeds to frame her for the murder, using the same chest to hide herself when Maya first enters and when Nick and Lotta bust in

.
Dead Person Impersonation:

Ini Miney is actually dead — the one you meet in the game is her sister, Mimi Miney, who took over her identity when both were involved in a car wreck that killed Ini and injured Mimi so badly as to require reconstructive surgery.

Debate and Switch: "Reunion and Turnabout" starts to explore the intriguing possibility of whether a spirit medium channeling a spirit can be convicted for what the spirit does.

Then the actual culprit turns out to be a living person who can be prosecuted and punished like everyone else.

Demonic Dummy: Trilo. Not actually demonic, but may as well be.
Demoted to Extra: Maya spends most of the game sidelined in favor of Pearl — and, for part of the first case, Maggey Byrde — and only really takes much of a part in the third case. Not to say that she doesn't play much of a role in the overall storyline, though, she just spends most of it in the background (to the point where she doesn't even appear on the game's cover art; Pearl takes her spot instead). Then horribly averted in the final case.
Department of Redundancy Department: Franziska von Karma is quite fond with the word "fool". In the original, "baka" takes its place (which is basically the same thing).
Diagonal Cut: During an awards ceremony, the Nickel Samurai does this with the moon.
The Ditz: Ini Miney in the second case acts like a silly Valley Girl. It can be amusing or annoying depending on who you ask.
Dirty Coward: Richard Wellington deliberately caused Phoenix Wright's amnesia in the first case and also murdered Dustin Prince to prevent being exposed as a con artist. Ironically, by doing so he sealed his own fate by stealing the wrong phone. A better example would be Matt Engarde by holding Maya hostage to force Phoenix to try to get a Not Guilty verdict.
Do Well, but Not Perfect: Can occur in the final case depending on Phoenix choosing if Matt Engarde gets a Guilty verdict after Shelley de Killer is pissed off at the latter. Sure, that means his apparent 100% victory rate comes to an end, but Maya is now safe and the whole court is free to whale on Engarde.
Dramatic Irony: In case 4, while investigating his client's house to feed his cat, Phoenix and Pearl are completely unaware that — as the player would know by an earlier scene — that this house

is where his assistant, Maya, is/was being held hostage

. Also, the bellboy the player speaks to in the house is unknown by Wright to be (but known by the player to be)

the real hitman hired by Engarde to kill Corrida that took Maya hostage

.
Dr. Jerk: Dr. Turner Grey, who makes Gregory House seem like a well-adjusted person, although he turns out to be right about Mimi being responsible for the malpractice.
Dueling Shows: In-Universe. The Nickel Samurai and Jammin' Ninja even air at the same time on Sunday Mornings, though the former is much more popular.
Exact Words: This screws Phoenix over in case 4. He has a magical item called the "Magatama", which will reveal "Psyche Locks" around a person if that person is lying or directly covering up something important. So before he takes Matt Engarde's case, he asks Matt Engarde whether or not he killed Juan Corrida. Matt says he didn't kill anyone, and that he was napping in his room at the time of the crime and thus must have been framed. No Psyche Locks appear, because technically Matt was telling the truth...he hired someone else to kill Juan, rather than doing it himself, and he was napping in his room at the time of the crime (secure in the knowledge that the assassin was doing his dirty work), and he was framed (by Adrian Andrews, who genuinely thought it was him but doubted that he'd be convicted otherwise). But Phoenix finds all this out too late, since he asked the wrong question and thus got an answer that was exactly true but not what he was looking for.
Expressive Shirt: Moe's hat reflects his emotions.
Figure It Out Yourself: Edgeworth consistently refuses to give Phoenix advice or tell him exactly what he thinks Phoenix needs to learn. Probably wise, since the intended lesson is "Fight for the truth, not because you want to 'save' someone" — something Phoenix would reject outright if he didn't realize it for himself; doubly so given that revealing the truth under the current circumstances means someone dear to him will be killed.
Fire-Forged Friends: Getting through

the Matt Engarde case and recovering Maya

is what finally rekindles Phoenix and Edgeworth's old friendship and forges their new (unofficial) partnership.
Foreshadowing:

In the second case, pay close attention to the cutscene of the car accident. Specifically, the hair of the survivor.

Now look at the Miney sisters' profile pics.

Why is the fourth case called "Farewell, My Turnabout"?

Because it's the first case that Phoenix loses, and he's saying farewell to his perfect record of "turnabouts" — and that's a good thing, since the defendant turns out to be the killer.

There's an easy to miss example during "Turnabout Big Top". If you examine the photos at the top of the wall in the Ringmaster's room, Maya mentions they should make a gallery of all the clients Phoenix has had. Phoenix then asks about the guilty ones. On the first play through, this is laughable, and is just Maya and Phoenix being themselves. Aaaaand then Farewell, My Turnabout happens.

Found the Killer, Lost the Murderer: There's a complete inversion during case 4 in which the this trope is turned around. At first the killing seems like a straightforward murder. However,

the killer was a hired assassin. The one who ordered the hit is declared guilty of murder, but the killer himself gets away clean.

Friend to All Living Things: Acro has birds that fly around him.

Subverted, as he turns out to be a murderer, then double-subverted: as Maya points out at the end, there were no bad people in that case

.
Gender-Blender Name: Adrian Andrews is a woman,

which becomes a key factor in figuring out she wasn't the one who ordered the hit on Juan — since Shelly de Killer never met her in person, he thought Adrian was a man.

Getting Crap Past the Radar:

"Mr. Wellington loves large bananas!"
Phoenix has an interest in Max's bust.

Phoenix:

I wouldn't mind hearing more about Max's

bust

...

Not that I'm into that sorta thing

...

In case 2-4, Maya almost gets away with making a certain reference to Pearl in order to force Phoenix to let them go investigate.

Phoenix: O-ok! I get it! Let's go take a look.

Good Scars, Evil Scars: In case 4,

Matt Engarde has a decidedly evil scar on the side of his face that he covers with his hair to make himself look more innocent.

Heads I Win, Tails You Lose: In Case 4,

Matt Engarde

's fate when determining whether

he's guilty or not

. Even if acquitted,

he

still loses.
Highly Visible Ninja: A Show Within a Show example is the Jammin' Ninja. He has a bright blue suit, a golden shuriken on his forehead, and wields a bright red guitar. Justified in that the Jammin' Ninja is less about ninjitsu and more about music. Doubly justified in that he's supposed to be a Shout-Out to another Capcom series character, Mega Man 3's Shadow Man.
Hitler Ate Sugar: Inverted in an equally illogical manner, oddly enough. In 2-4, Will Powers' testimony mentions some rather incriminating observations about a certain bellboy,

who Phoenix knows very well is actually an assassin hired by the defendant, whom he is being blackmailed into getting a acquittal for

, namely the bellboy's unusual pattern of stitches and his non-uniform leather gloves. Phoenix's objections to each respectively are "Baseballs have stitches! Are you saying all baseballs are suspicious?!" and "Footballs are made of leather! Are you saying all footballs are suspicious?!".
Hitman with a Heart: Shelly de Killer shows signs of this, which is pointed out by Phoenix on occasion.
Hold the Line:

When Gumshoe's search party for Maya kicks off when Shelley ran off to another location Phoenix has to keep the trial going as long as possible without Matt getting suspicious and telling Shelley to kill Maya.

Hollywood Personality Disorders: Inverted.

Adrian Andrews

has what is almost certainly Dependent Personality Disorder, but it's never identified as such by name, merely referred to as "codependency" (changed to "dependent personality" in the 3DS Trilogy release).
Homemade Inventions: After getting kicked from the force barred him from borrowing a professional-quality bug sweeper from the police for Phoenix in the final case, Gumshoe goes home to pick up one he built at school years ago. Despite it treating everything that emits signals as suspicious, they find what they're looking for and even Edgeworth manages to use it without hassle.
The Hyena: Laurence "Moe" Curls, the clown, is always laughing. Except when a very serious topic comes up.
In Another Man's Shoes: Phoenix spends the game raging against prosecutors, particularly Edgeworth, believing that they care only about winning and nothing about truth or justice.

Then he's put in a position where he's forced to defend a murderer.

Infinite Supplies: Adrian Andrews with her many many many pairs of glasses that are fragile enough to be broken by nerves and shock.
The Ingenue: Deconstructed with Regina. Growing up in the circus sheltered by her dad meant that she has no idea what's real or normal, including the concept that people die. So when she

accidentally kills Bat

, she feels absolutely no responsibility for her actions.

And she actually breaks down in tears when she figures out what her actions led to, at the end of the case.

Insistent Terminology: Morgan demands that Phoenix refer to Maya as "Mystic Maya."
Ironic Echo: Fransizka promising to end Phoenix's perfect record at their first meeting.
It's a Wonderful Failure: If you lose in case 4, you get the line "The miracle never happen".
Jerkass Has a Point: In case 2,

Dr. Grey was right and Mimi Miney was at fault for the malpractice. Not that he isn't entirely blameless either...

Just Giving Orders: Phoenix's assistant Maya gets kidnapped close to the beginning of the final case as ransom to get you to defend a famous film star, Matt Engarde, in a murder trial. Phoenix happens to have a magical lie detector and when he asks Engarde if he did it, he responds that he never killed anyone. It later turns out that Engarde actually hired an assassin, and he reveals his dim-witted laid-back personality was all a facade by reintroducing himself. (Wham Line How do you do, Mister Lawyer? I'm Matt Engarde). The lie detector didn't work because he didn't believe that hiring an assassin counts as murder.
Karma Houdini:

Shelly de Killer. He's an assassin who killed Juan Corrida and presumably many others. At the end of the game, he gets off scot-free and he even sends a cheerful transceiver message saying that he's leaving the country but you can give him a call anytime.

Keep It Foreign: In an odd example

the car from 2-2, seeing as in Japan the car was American (And the Japanese have the steering wheel on the right, like the British) so in order to keep Mimi's story consistent on which seat she sat, they made the car British in the American version

.
Last-Second Word Swap: In Case 2-2:

Phoenix: With this, the trial will be in the b...
* looks over to see Franziska still smiling*
Phoenix: ...blast radius of disaster.

Late-Arrival Spoiler: Edgeworth has his own spinoff, so the early-game Red Herring of his death doesn't really take. The whole plotline smacks of Like You Would Really Do It anyway, but it's particularly ineffective since Edgeworth has been advertised in so many sequels. He's even on the box art of the DS version.
Locked Room Mystery: In case 2, the victim is murdered in a guarded chamber where only he and the defendant were. The prosecutor suggests that you claim self-defense, but Phoenix will, of course, say the defendant is innocent.
Loss of Identity:

Edgeworth

spends the majority of the game in a foreign country while trying to figure out his identity after both

reliving the trauma of the DL-6 case while being framed for another murder and being reminded of the tragedies he caused with his corruption during the SL-9 incident

.
Lost in Translation: It's a plot point that Pearl can't read — and you wouldn't be alone in thinking that the concept of an eight year-old, even one who lives in an isolated village of ascetics, who can't read a three-letter word borders on the absurd. However, in the Japanese script, the problem is that she can't read kanji in particular, which is perfectly realistic — even native Japanese speakers have problems with kanji, and they're the main factor in why achievement of literacy is considered to coincide with high school graduation.
Love at First Punch: "Director Hotti" reacts quite... happily... to being whipped by Franziska.
Lying in the Dirt Together: Oldbag fantasizes that this happened to Juan Corrida with the bear he supposedly fought, then made friends with.

Oldbag: Look, it's just like in those young people's dramas. I can see those two tuckered out, down by a river going, "Heh... You... You sure can fight..." "You too, bub. You too."

Mad Scientist's Beautiful Daughter: Obscure, but in the Nickel Samurai, all three ninja brothers fall for the evil Strawberry Clan leader's daughter.
Marathon Boss: In a rarity for the series, the culprit of case 3 takes an entire trial day to take down. There's even a save point in the middle of his testimonies.
Meta Twist: The whole series plays Good Lawyers, Good Clients very straight for the most part. Farewell, My Turnabout is a major exception, as Matt Engarde turns out not only to be guilty, but is also holding Maya hostage as a way of forcing Phoenix to fight for a not guilty verdict regardless.
Moral Dilemma: Justice for All teaches us that

"Justice" does not always mean "Not Guilty"

with case 4.

Edgeworth: It doesn't matter how many dirty, underhanded tactics you use in court. The truth will always find a way to make itself known.

Morton's Fork: In "Farewell, My Turnabout", this is the situation

Nick

is in. Either

he gets a Not Guilty verdict for the culprit

, or

he never sees Maya again

. Done again at the end of the same case as the method by which you finally take down Engarde, informing his hitman that he's pure scum, and making Engarde's choices either jail or being hunted down by said hitman.
Mundane Fantastic: In case 2, Maya is photographed while channeling a spirit, which physically changes her to look like the spirit. Nobody is interested in the fact that Franziska captured psychic powers on camera, it's just another bit of evidence in the case which she admits is completely illegal and doesn't submit it to the Court Record, but because the Judge saw it as per her intentions, he now knows that it's plausible.
Murder by Mistake:

Acro

in case 3.

He didn't mean to kill the ringmaster. He did, however, mean to kill his daughter.

Mystical 108: Subverted. While in the mystical, Japanese-inspired Kurain Village, Phoenix can inspect an ancient tapestry, which has a list of 108 ways to make money. Then Phoenix thinks of two more, and they're immediately put on queue to be added to the tapestry.
Never Speak Ill of the Dead: Averted by Turner Grey in Justice For All, who continues to talk about how much of a failure his subordinate Mimi was after her death, even going so far as to want to get a spirit medium to summon Mimi for the express purpose of making her take responsibility.
Never Suicide: Averted with

Celeste Inpax

.
Nice Job Fixing It, Villain!: Something of an odd clash of this and inverted Nice Job Breaking It, Hero! on the villain's end in 2-4. De Killer thinks he's doing Phoenix a favor by shooting Franziska, thinking to get a mistrial or at least an easy acquittal for Matt Engarde when an unprepared prosecutor takes her place. True, Franziska had a very systematic plan for getting her victory but the person who replaces her is Edgeworth, who realizes midway through the first session that something is wrong and teams up with Phoenix to save Maya. So basically, the villain succeeds in helping Phoenix only too well.
This also ends up being Phoenix's saving grace in the third case.

Thanks to the search on Acro's room, he didn't have the mobility to leave the room nor the means to dispose of the murder weapon, so he did the only thing he could think of: He hid the weapon under his wheelchair and wore a blanket over his lap the whole time. Franziska was so proud of turning the room upside-down for evidence that she didn't know she had accidentally brought a witness to the courtroom with the murder weapon still on him, and once she realizes this, she is beside herself furious. Everyone congratulates her for doing so, believing it was a deliberate method to expose the murderer while she mutters to herself in anger and asks why she executed the surprise search.

Made more hilarious when you realize Gumshoe had given her the idea, and that Edgeworth gave the idea to Gumshoe, so the idea to execute a surprise search wasn't her own, but she was so caught up in winning the case she did it anyways.

Nightmare Sequence: The dream where the shade of the Judge brings a gigantic gavel down on Phoenix, telling him, "You are no longer worthy of your title!" in the opening of the first case.

Reappears in the fourth and final case, when Phoenix is deeply conflicted about Maya's kidnapping and the defense of Matt Engarde.

No Badge? No Problem!: During the third case, Gumshoe says he won't let Phoenix into a crime scene simply because he flashed his attorney's badge again. Maya states that he would if they were to show a Steel Samurai badge. Gumshoe's response implies that yes, it would indeed work. "Crime scene security" obviously doesn't exist in the Ace Attorney world.
No Celebrities Were Harmed: Juan Corrida in the second game looks like not one but several Toku heroes in the 80s, especially the ones in the first Kamen Rider series.
No Sympathy: At one point Edgeworth basically tells Adrian Andrews it's not his problem if

she decides to commit suicide.

That is just damn cold, to the point of being out of character.
Noble Demon: Shelly de Killer. He always kills without harming anyone else, is very patient with his client's demands, but values trust above all else.
Non-Standard Game Over: Happens in 2-4, if you don't present the right piece of evidence to the right person near the end of the case. However,

instead of getting a "Guilty" verdict, it's a "Not Guilty" verdict for the guilty-as-hell defendant. As a result, Adrian Andrews is wrongfully convicted for Juan Corrida's murder. Phoenix gives up being a lawyer out of shame and guilt and he never sees Maya again

.
Obfuscating Stupidity:

Mimi Miney

and

Matt Engarde

.
Oh, Crap!: After finalizing the cross-examination on Adrian Andrews midway in the final case, Edgeworth asks her about the card she was playing with the whole time. He gets a better look at it and freaks out on the drawing on it, since now a professional assassin the police have been chasing is now involved, since that's his Calling Card.
Ominous Pipe Organ: Bach's "Toccata and Fugue in D minor" plays during the opening cutscene. Which becomes a Chekhov's Gun later in 2-1, as this is Richard Wellington's ringtone.
Police Are Useless: The police never seem to question the notion that a man wrote his girlfriend's name in the sand after taking a hard fall despite the autopsy report stating he died instantly!
Reality Ensues: In the final case,

Gumshoe steals evidence and takes his personal car to deliver it to the courthouse as soon as possible, promising to run all red lights to do so. He then gets in a car crash because of that.

Red Herring: At the beginning of Case 2-4, the rivalry between two film studios is discussed at length. What does this have to do with the case? Nothing.

The rivalry between individual people working at those studios is relevant, but the studio rivalry means nothing to the case.
Phoenix Wright: Ace Attorney – Trials and Tribulations
Phoenix Wright: Ace Attorney – Trials and Tribulations provides examples of:
---