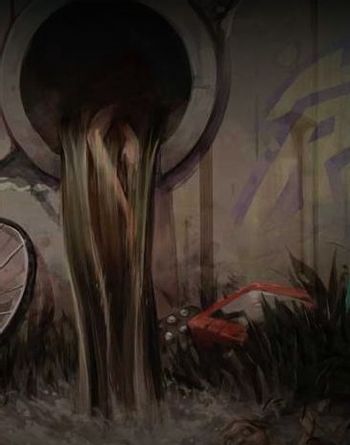 Hayarigami 3 (Officially known as 流行り神3警視庁怪異事件ファイル - Hayarigami 3 Keishicho Kaii Jiken Fairu — Tokyo Metropolitan Police Department Strange Case Files 3) is a Survival Horror Visual Novel game released by Nippon Ichi as the last game in the main Hayarigami trilogy before the eventual release of Shin Hayarigami in 2014 for the PS3 and PS Vita.
The game is only released on the Playstation Portable with a physical releases on August 6, 2009 with a rerelease via "Best Price" release and digital release on August 5, 2010. All of them are rated C by CERO due to the game's mild violent content.
It takes place one year after the events of Hayarigami 2. The MPD's Historical Archives Section has been informed by their superiors that a new department head will take command of the section as they proceed to investigate the Greater Tokyo Area to resolve criminal cases that arise from urban legends. They were also informed that they'll be joined by a new recruit, who is scheduled to be transferred to the section from the MPD's Criminal Investigation Bureau, the same bureau where Assistant Inspector Kazami last worked a few years ago.
Like Hayarigami 2, the gameplay mechanics are still intact. But this time, the game comes with an additional downloadable scenario that concentrates on new HAS officer Kaoru Haguro, one of the section's new recruits, as he investigate a potential murder in the confines of an elementary school that may have ties to the Hanako-san toilet urban legend. This scenario was released for free as of 2015.
---
Hayarigami 3 contains examples of: