So come play with us.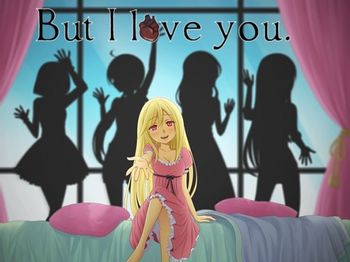 But I love you is an upcoming (possibly abandoned - see below) Visual Novel-style game developed by independent gaming company Novella Gaming. Greenlit by Steam Greenlight, then crowdfunded through Kickstarter; over a 45 day period, the developers raised $43,682 for development purposes. However, the last developer communication on Kickstarter was May of 2016, making it a possible case of Vaporware.
The game centres around the currently-nameless player character, a young man or woman currently going travelling to escape from a stressful home life, who experiences a car breakdown and arrives in a mysterious town called Keresberg. Once there, s/he begins to explore, meeting several cute girls who all seem, albeit to varying degrees depending on playstyle, friendly, helpful and affectionate. Early on, the game takes the form of a Dating Sim, allowing the player to spend time scoring with the ladies they're interested in, each girl providing a different niche to fill. So far 5 romanceable characters have been confirmed:
Emma. A sweet and gentle girl in a gorgeous period dress who runs the bed-and-breakfast the player is staying in. She loves music, singing and the occasional bad joke, but dislikes those who don't appreciate her work or make life difficult for her.
Ryanne. A young 'un of ambiguous age, she seems content to wander around acting and dressing like a 10-year old. That said, she is unambiguously kind and friendly, and the only kind of people she hates are assholes.
Leila. A parkour enthusiast who isn't very good at her chosen hobby, defines herself by complete and utter freedom and gets a kick out of competitive sport and pulling pranks. She has no patience for shy people or anyone who tries telling her what to do, but respects those who give as good as they get.
Alison. A quiet wallflower-type gal who sometimes tends to the town's public garden, she is shy and unappreciative of crowds, but also happens to be very artistic. She seems open to a romance with anyone, but dislikes people who are too persistent in following her.
Vivian. A perfectionist with a strong impulse to keep things neat and tidy but friendly and helpful nevertheless. She dislikes those who cause disorder and isn't comfortable talking about her feelings, but she can be perfectly affectionate when she feels like it.
However, before long the girls begin to get clingy, wanting the player to stay in the town with them — probably just one of them, but who knows? — forever; alarm bells begin to go off in the player's head, telling him/her that there's something very wrong with the girls — with the entire town, actually — and that they have likely stumbled into a very dangerous situation. Where they go from there — try to escape or stick around and keep courting — is all down to the player. If they do decide to take their chances and try to fight their way out, the gameplay shifts towards puzzles and and the overall tone of the game towards Survival Horror.
At this juncture, the game is still in development. As more information becomes available, the page will be updated. An official demo for the game was released on January 17th 2016 and can be found here
.
---
But I love you. provides examples of the following tropes:
Pastimes Prove Personality: The high-class but kindly Emma enjoys singing and playing piano; the childish and playful Ryanne hangs out at the playground; the rebellious, in-your-face Leila enjoys the energetic sport parkour (but isn't good at it) and playing pranks on others; the solitary, nervous but intelligent Alison is a sketchbook-owning graffiti artist and gardening enthusiast; Vivian, the efficient, professional neatfreak, enjoys cooking and has a "hobby" of putting things back in place or arranging them in a pleasing manner.
---