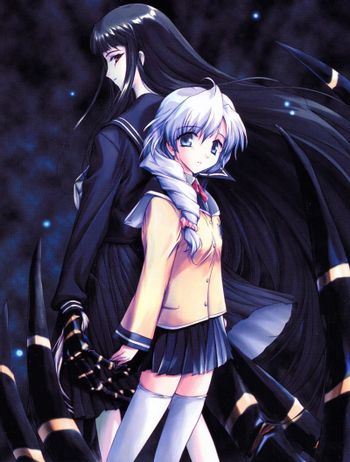 "Know your own place, pig..."
Atlach=Nacha is a Romance/Horror Visual Novel by AliceSoft about a Jorōgumo named Hatsune Hirasaka.
After an arduous battle with her nemesis Shirogane, Hatsune has had to go into exile, hiding within a forest for centuries. Able to take on a human form, she appears as a student at Yaesaka High School where she intends to use the students to replenish her strength, and heal her wounds. She does this in two ways: either devouring them or having sex with them (usually forcibly). It should be noted that she prefers girls for sexual intercourse.
She saves a Shrinking Violet by the name of Kanako Miyama on the night she discovered the school, killing and devouring the boys that were trying to rape her. Now, Kanako stays by her side as a loyal servant, helping her accomplish her nefarious goals, while Hatsune plans to target the other students, either turning them into her thralls (a "kind" term to describe a broken sex slave), or consume them alive. Things become complicated between Kanako and Hatsune, as they start to develop feelings for each other. However, Shirogane is stalking the area as well and it won't be long before he tracks her down, and Hatsune will need to confront her age-old rival once more...
Atlach=Nacha was released in 1997, initially being bundled together with a bunch of other Alicesoft titles, under the Alicesoft Mansion collection. Proving to be quite popular, it got its own standalone release in 2000. While there hasn't been a sequel, Hatsune herself proved to be quite iconic, having made several cameos in other games. Despite having a cult following in Japan, its rather obscure in the west, though there has been several attempts to translate it.
Named after the Great Old One spider from the Cthulhu Mythos, though it's completely unrelated to the Mythos.
---
Atlach=Nacha provides examples of the following:
---