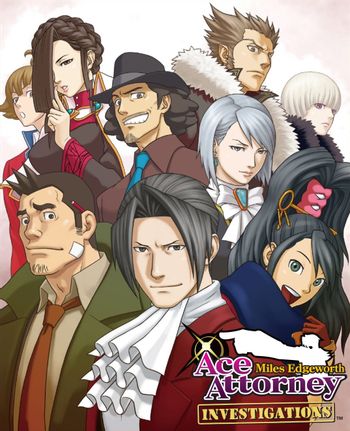 "My name is Miles Edgeworth. And I work as a prosecutor in my local district. Little did I know that upon my return home after a month abroad... ...I would be thrust into a multitude of cases, and some very frantic and busy days."
— Miles Edgeworth
A Spin-Off of Ace Attorney, Ace Attorney Investigations: Miles Edgeworth (逆転検事, "Gyakuten Kenji" in Japan — lit. "Turnabout Prosecutor") landed its American and European releases in February 2010. Investigations stars Miles Edgeworth, the main rival of Phoenix Wright, as he investigates crimes outside the courtroom. Assisting him on his search for the truth is Detective Dick Gumshoe and the franchise newcomer Kay Faraday, a teenage self-declared thief. Compared to the main series installments, the game takes on a more traditional point-and-click adventure style, with walking sprites exploring areas rather than simply moving from scene to scene. Instead of engaging in courtroom battles, Edgeworth solves mysteries through Logic, and by countering arguments from witnesses, culprits, and rival investigators.
The first game is set one month following the events of Trials and Tribulations, where Edgeworth finds himself solving numerous cases connected to both an international smuggling ring and the Yatagarasu, a mysterious Phantom Thief who opposed said ring. However he finds his investigations challenged by Shi-Long Lang, a cocky Interpol Special Agent who doesn't trust prosecutors to get the job done and has a bone to pick with the smuggling ring.
Investigations was followed by a Japan-only sequel, Gyakuten Kenji 2, which was released on February 2011. Taking place two weeks after the events of the first game, Edgeworth finds his position as a prosecutor threatened by Judge Justine Courtney, a member of the Prosecutorial Investigation Committee, as he is accused of going beyond the bounds of the law in the pursuit of the truth. Edgeworth also finds himself getting reacquainted with defense attorney Raymond Shields, a former apprentice of Edgeworth's father who suggests that the prosecutor considers returning to follow his father's footsteps. In the midst of all this, Edgeworth has to deal with with several new cases, ranging from an attempted assassination of a foreign president to the last case Edgeworth's father worked on before his death.
Gyakuten Kenji 2 features a new system called "Logic Chess". This does not necessitate playing chess, but instead acts as a visual metaphor. When Edgeworth can't find a fault in the witness' testimony, he can instead ask one of two questions. Asking the correct one will cause the player to "take" one of their "pieces", allowing the "game" to move further. An incorrect choice will have the reverse happen, and the player will lose points from their Truth meter.
Currently, there are no plans for the sequel to be localized, but there is a Let's Translate
on YouTube (complete as of September 29, 2013) while a full Fan Translated patch (subtitled "Prosecutor's Path" and featuring a complete localization of the dialogue) is currently available in English, and can be found here
. To keep consistent with other Ace Attorney entries on TV Tropes, all entries referring to the sequel use the Prosecutor's Path localized information rather than the official Japanese information. note The reason why the game went into No Export for You territory was because the team itself was unable to get together in the timeframe whilst everyone was moving and leaving after the game was completed.
After several years of being only available on the Nintendo DS, the first Investigations game released for iOS and Android on December 8, 2017 in both English and Japanese territories. Gyakuten Kenji 2 was later released for the same platforms in Japan on December 21, 2017.
Note that this page contains spoilers for the sequel, and may not be properly marked at some points.
---
These games provide examples of:
open/close all folders
Both games
Ace Attorney Investigations
Ace Attorney Investigations 2
---