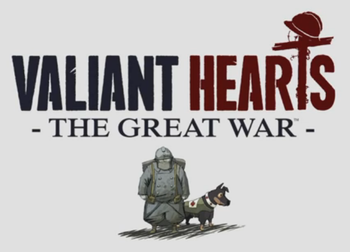 Valiant Hearts: The Great War is a side-scrolling 2D adventure/puzzle game developed by Ubisoft Montpellier and published by Ubisoft, set during the Great War; otherwise known as World War I. The story tells the tale of a number of people who are involved in the war, and their points of view: A drafted German soldier, his French father-in-law, a Belgian nurse, a rescue dog, an American soldier, and more. Valiant Hearts tells of the impact of the war, and how it tore apart lives, and formed blood brothers on the smoke-filled battlefields of Western Europe. It also makes the point that the moral dimensions of the Great War's Western Front were ones of degree, rather than the absolutes on the Great War's other fronts or those so infamously imposed by Nazi Germany and its genocidal programmes in the Second World War. note Yes, this is a gross oversimplification on the Great War side given the Ottomans' genocidal programmes and the Hindenburg-Ludendorff Junta's plans for postwar ethnic cleansing to make Baltic States into ethnically pure German-only territories. And yes, it is also a gross oversimplification on the Second World War side given that none of the Allies fought - or made any physical efforts - to save other countries' people from oppression or extermination (of course, claiming otherwise made it almost ridiculously easy to secure the moral high ground in the propaganda war). By definition, generalizing leaves out important details.
Released on several platforms a few days before the WWI centennial (June 27th, 2014), with an iOS version following a few months later. Of note is the fact that this is another game that uses the Ubiart engine, such as some previous Ubisoft games, Rayman Origins and Child of Light.
On November 7, 2014, Valiant Hearts: The Dogs of War, a prequel interactive comic book was released as an update to the IOS version of the game, detailing Walt's backstory.
---
Tropes used in Valiant Hearts: The Great War:
---