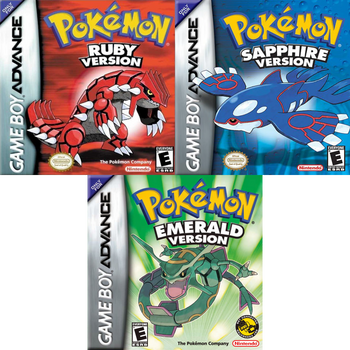 "Immerse yourself in the beautiful region of Hoenn, a place of masterful heroes and mysterious teams, of friendship and battles. As the new kid in town, you set off on your journey as a Pokémon Trainer. Who knows what wonders and dangers await you? Now it's time to grab your gear and head out on your own..."
— Blurb on the back of the boxes of Pokémon Ruby and Sapphire Versions
The third set of games in the Pokémon series, Ruby and Sapphire were released for the Game Boy Advance, with Emerald arriving a few years after. Along with FireRed and LeafGreen, Colosseum and XD, they are known collectively as Generation III of the Pokémon video game series. In addition to introducing a new story and region to explore and over 100 new Pokémon to catch, Ruby and Sapphire brought with it many new gameplay features such as individual natures and Abilities for each Pokémon, double battles, and Pokémon contests. Along with massive graphical improvements over its predecessors, these games also had an entirely new data structure; as a result, Generation III games were incompatible with the previous two generations.
The games took place in Hoenn, which is based on the Kyushu region of Japan rotated ninety degrees counterclockwisenote Of course, since the world is round and we never see Hoenn on a map along with any other regions, this rotation doesn't matter much. The game begins with the player moving to their new home in Littleroot Town, and later saving the local Pokémon Professor, Birch, from a wild Pokémon. As thanks, he gives the player their own Pokémon, encouraging him/her to travel around the region and collect as much data on Hoenn's Pokémon as they can, much like Birch's child (and your rival) Brendan/May is doing.note Your rival is whichever player character you didn't pick at the beginning; if playing as May, Brendan is your rival, and vice versa.
On their quest to be the best, players will encounter two villainous groups: Teams Aqua and Magma, who want to flood and dry out the planet, respectively. Sapphire players will become allied with Team Magma to stop Aqua summoning Kyogre, while Ruby Trainers help Aqua stop Magma summoning Groudon. Emerald put them both in the antagonist role, with Rayquaza being summoned to stop the chaos.
These games may be the biggest case of One Game for the Price of Two in the franchise, as there is no way to legitimately collect all 386 Pokémon without aid from FireRed, LeafGreen, Colosseum, and XD (and oddly, only Ruby or Sapphire, because Emerald has whatever Pokémon the other version lacks).note The Game Boy Advance had backwards-compatibility for the Game Boy Color, but its link cables were unable to connect the two systems; coupled with the aforementioned data structure redesign, there was no method for importing or trading Pokémon from Gold, Silver or Crystal to Ruby, Sapphire or Emerald. The Red and Blue remakes provided all 150 Kanto Pokémon and a small pool of Johto's, with Colosseum and XD having several from all three regions; together, they had all but the event-only Pokémon. Perhaps not coincidentally, it was during this generation that Nintendo stopped using "Gotta Catch 'Em All" as the franchise's slogan. Speaking of generations, the next one, Gen IV, starts with Pokémon Diamond and Pearl.
On May 7, 2014, The Pokémon Company announced remakes for the Nintendo 3DS, titled Pokémon Omega Ruby and Alpha Sapphire. Prior to their release, players could download a special demo version starting in mid-October 2014, which centered on Mossdeep Island. The games were released in November 2014 (Nov. 21 in most places, Nov. 28 in Europe), exactly twelve years after the originals' release in Japan. Groudon and Kyogre have newly-introduced "primal" formsnote they have more intricate Tron Lines and prominent "omega" and "alpha" designs on their hands, respectively, and these lines now glow yellow and turquoise instead of blue and red, on top of straight-up glowing panels on their bodies, which are depicted on the boxart, other Pokémon get Mega Evolutions, lots of features were added or upgraded, and a post-league scenario known as the Delta Episode was included. These games are part of the "Sixth Generation" of Pokémon games and are compatible with Pokémon X and Y.
"Pokémon Omega Ruby and Pokémon Alpha Sapphire Animated Trailer" is an official animated trailer for the remakes.
---
open/close all folders
Tropes used in Ruby, Sapphire, and Emerald
Tropes used in Omega Ruby and Alpha Sapphire
---