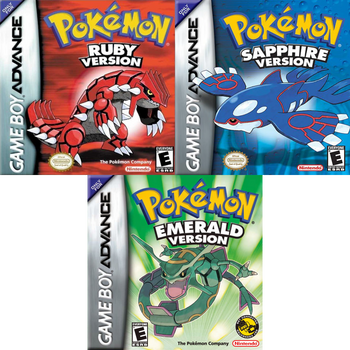 "Immerse yourself in the beautiful region of Hoenn, a place of masterful heroes and mysterious teams, of friendship and battles. As the new kid in town, you set off on your journey as a Pokémon Trainer. Who knows what wonders and dangers await you? Now it's time to grab your gear and head out on your own..."
— Blurb on the back of the boxes of Pokémon Ruby and Sapphire Versions
The third set of games in the Pokémon series, Ruby and Sapphire were released for the Game Boy Advance, with Emerald arriving a few years after. Along with FireRed and LeafGreen, Colosseum and XD, they are known collectively as Generation III of the Pokémon video game series. In addition to introducing a new story and region to explore and over 100 new Pokémon to catch, Ruby and Sapphire brought with it many new gameplay features such as individual natures and Abilities for each Pokémon, double battles, and Pokémon contests. Along with massive graphical improvements over its predecessors, these games also had an entirely new data structure; as a result, Generation III games were incompatible with the previous two generations.
The games took place in Hoenn, which is based on the Kyushu region of Japan rotated ninety degrees counterclockwisenote Of course, since the world is round and we never see Hoenn on a map along with any other regions, this rotation doesn't matter much. The game begins with the player moving to their new home in Littleroot Town, and later saving the local Pokémon Professor, Birch, from a wild Pokémon. As thanks, he gives the player their own Pokémon, encouraging him/her to travel around the region and collect as much data on Hoenn's Pokémon as they can, much like Birch's child (and your rival) Brendan/May is doing.note Your rival is whichever player character you didn't pick at the beginning; if playing as May, Brendan is your rival, and vice versa.
On their quest to be the best, players will encounter two villainous groups: Teams Aqua and Magma, who want to flood and dry out the planet, respectively. Sapphire players will become allied with Team Magma to stop Aqua summoning Kyogre, while Ruby Trainers help Aqua stop Magma summoning Groudon. Emerald put them both in the antagonist role, with Rayquaza being summoned to stop the chaos.
These games may be the biggest case of One Game for the Price of Two in the franchise, as there is no way to legitimately collect all 386 Pokémon without aid from FireRed, LeafGreen, Colosseum, and XD (and oddly, only Ruby or Sapphire, because Emerald has whatever Pokémon the other version lacks).note The Game Boy Advance had backwards-compatibility for the Game Boy Color, but its link cables were unable to connect the two systems; coupled with the aforementioned data structure redesign, there was no method for importing or trading Pokémon from Gold, Silver or Crystal to Ruby, Sapphire or Emerald. The Red and Blue remakes provided all 150 Kanto Pokémon and a small pool of Johto's, with Colosseum and XD having several from all three regions; together, they had all but the event-only Pokémon. Perhaps not coincidentally, it was during this generation that Nintendo stopped using "Gotta Catch 'Em All" as the franchise's slogan. Speaking of generations, the next one, Gen IV, starts with Pokémon Diamond and Pearl.
On May 7, 2014, The Pokémon Company announced remakes for the Nintendo 3DS, titled Pokémon Omega Ruby and Alpha Sapphire. Prior to their release, players could download a special demo version starting in mid-October 2014, which centered on Mossdeep Island. The games were released in November 2014 (Nov. 21 in most places, Nov. 28 in Europe), exactly twelve years after the originals' release in Japan. Groudon and Kyogre have newly-introduced "primal" formsnote they have more intricate Tron Lines and prominent "omega" and "alpha" designs on their hands, respectively, and these lines now glow yellow and turquoise instead of blue and red, on top of straight-up glowing panels on their bodies, which are depicted on the boxart, other Pokémon get Mega Evolutions, lots of features were added or upgraded, and a post-league scenario known as the Delta Episode was included. These games are part of the "Sixth Generation" of Pokémon games and are compatible with Pokémon X and Y.
"Pokémon Omega Ruby and Pokémon Alpha Sapphire Animated Trailer" is an official animated trailer for the remakes.
---
open/close all folders
Tropes used in Ruby, Sapphire, and Emerald
Tropes used in Omega Ruby and Alpha Sapphire
Time Travel: Implied to be the case with Genesect if you were to transfer it to these games due to the implications that they are near the very beginning of the series timeline. (Genesect's backstory involves N of Team Plasmanote cancelling the project involving its creation, only for it to be secretly completed by the scientist in charge of it).
Took a Level in Badass: Wally goes from a timid frail boy who needs help from Norman to capture Ralts into a strong trainer fully capable of testing the player's limits if unprepared.
Translation Convention: It's implied a few times that the characters within this game are actually speaking within the Pokémon world's equivalent to Japanese.
Tron Lines: The "Cleverness" intro of your Pokémon in the Pokémon Contests shows a circuit board lighting up in the background.
20 Bear Asses:

The Glass Workshop on route 113 requires you to collect grams of volcanic ash from the 7 ash piles found on the route. The Elegant Desk the glass maker can create for you requires about 8,000 grams of ash, and the Elegant Chair about 6,000. You get between 35-105 grams every time you go back outside and collect the 7 piles again, so getting both furniture items for your secret base is going to take quite a bit of repetitious grinding.
There's something similar if you want your Secret Base to be as useful as possible. Getting it to Bronze level, where your friends have higher level Pokémon when you battle them and can do two skills, requires gathering 30 flags from other Bases. Getting it to Silver (making their Pokémon even better and giving them three Skills) requires you to gather 100 flags (total). You need a total of 500 to get it up to Gold, where you can have the best base, and you need 1000 flags to gain the Platinum rank, which not only allows you to use special skills of your Secret Base Pals twice a day, it's also the only way to get the Garchompite without trading. (And because there are only 80 Secret Bases in Hoenn and you can only get one flag from each per day - if it's occupied - it may take a while.)

Twinkle Smile: During the cutscene where Maxie/Archie summons Groudon/Kyogre, he'll turn to the player and grin in his triumph. It's a little hard to make out, but his teeth definitely twinkle.
The Unreveal: Regarding the number of years that pass between some of the games. Looking at the description of the model of the Royal Unova in the Slateport City Museum says that it's "scheduled to be completed in — years. The number is too small to read."
Video Game Caring Potential:

Pokémon-Amie returns from X & Y. Just like in those games, you can pet, feed, and play with your Pokémon, which can grant quite a few bonuses if you keep on doing it.
There's a Youngster on an early route whose Pokémon has been injured. You have the option of healing it for him with one of your Potions for nothing in return.

Voodoo Shark: The game Handwaves portraying the cutscene on top of Sky Pillar at night, then jumping to daytime by Zinnia knocking you unconscious, which raises the question on why she did so in the first place.
Vortex Barrier: Downplayed. The player is unable to access the desert blocking half of one route, as the desert is covered by constant sandstorms. This sandstorm never goes away, but the player can eventually enter the desert after obtaining the Go-Goggles.
We Used to Be Friends: Archie and Maxie were on the same "team" once, according to an NPC.
Well-Intentioned Extremist: Team Magma and Aqua both have good intentions for their actions like in the original games, except they've been expanded upon so their motives are more sensible this time.
White-and-Grey Morality: The Heroes are trying to Save the World from Groudon and Kyogre, who will destroy the world if one of them is awakened. All the villains are sympathetic and well-intentioned, and realize the error of their ways in the end. One of the villains, Archie, is incredibly friendly even before his Heel–Face Turn, friendlier than even some rivals.
Who Wants to Live Forever?: Discussed. An NPC at Mt. Pyre says that he wishes he could live forever with his Pokémon, but also believes that immortality isn't something one should force on another.
Wolverine Publicity:

Similar to the Pikachu cameo in Pokémon Black and White, Lucario is unobtainable via normal gameplay, but one appears in the Battle Resort and is scannable via DexNav, and it is the only interactable Pokémon not in the Hoenn Dex.
Lugia is also fairly prominent in merchandise and marketing related to the games and their associated movie Pokémon: Hoopa and the Clash of Ages thanks to its popularity in Pokémon Gold and Silver. In ORAS, it's an "extra" Legendary Pokémon exclusive to Alpha Sapphire and has no bearing on the main plot (Ho-Oh, which serves as its counterpart in Omega Ruby, didn't receive the same kind of marketing and didn't appear in the movie).

You All Look Familiar: The women who guards the entrance to the cable car and the woman who gives out tickets both look similar. Lampshaded by a hiker on the upper cable car house who claims that the ones at the top are twins while the ones at the bottom are also twins.
You Bastard!: Just try to walk away from Professor Birch at the beginning:

Professor Birch: Wh-where are you going?! Don't leave me like this!

You Don't Look Like You: The character redesigns are a lot more prominent and drastic than they were in the remakes of previous gens. As just a few examples:

Tabitha went from being tall and lanky to short and fat.
Matt, originally sort of chubby and out of shape, is far more muscular and chunky.
Shelly remains the same size and shape, but has so many changes to her hair, skin, and costume that she looks like a whole new character with the same name.

Zerg Rush: Like in X & Y, horde battles have made a return. However, in addition, Team Magma and Aqua Grunts can also engage in you in 5-on-1 battles this time!
---