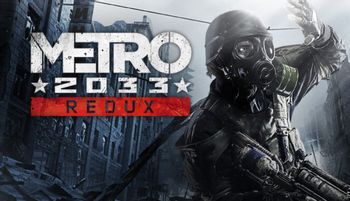 "Life was never easy in the tunnels, but it was our home. There was comfort in its routines, in seeing the same people day after day. But since the mutant attacks had escalated, fear ruled the station. I had just turned twenty...and could never had imagined what would follow on the morning that my stepfather's friend, Hunter, arrived at the barricade..."
—Artyom
Metro 2033 is a First-Person Shooter with Survival Horror elements based on the novel of the same name, made by Ukrainian developer 4A Games and released in 2010 for the Xbox 360 and Steam. Set in Moscow twenty years after a devastating nuclear war, much of the action takes place Beneath the Earth, as humanity now shuns the surface wasteland in favor of living in the remains of the Moscow Metro system. The story features the 20-year-old Artyom, who embarks on a journey to solicit help from the Rangers before his home station is overrun by the mysterious and unstoppable "Dark Ones".
Along the way, Artyom faces danger from not only the Dark Ones, but also the "normal" mutated wildlife that prowl the tunnels, unpredictable and deadly electrical anomalies, the hostile environment of the surface and, of course, unfriendly humans (from bandits to militant Soviets and resurgent Nazis). Oh, and there are ghosts. You see the silhouettes and hear the screams of people who aren't there.
The world is bleak and resources are scarce; weapons are mostly cobbled together and the trading currency of choice is pre-war military-grade bullets, giving intrepid Disaster Scavengers (and the player) a choice between taking on threats with substandard ammo or literally shooting money.
A sequel to the game called Metro: Last Light was released in 2013. An Updated Re-release/Videogame Remake, Metro Redux, was released in 2014, which remade 2033 with Last Light's version of the 4A engine, as well as bundling it with Last Light.
The third game in the series, Metro Exodus, was announced at the E3 2017, and released on February 15, 2019 on PC, Xbox One, and PS4.
---
The game features the following tropes:
open/close all folders
A-M
N-Y
---