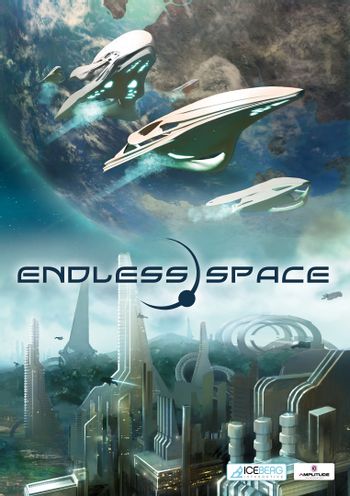 Endless Space
is a
4X
game from indie developer Amplitude Studios and is in many ways the
Spiritual Successor
to
Master of Orion.
Set in the year 3000 AD, the player must chose to lead one of eleven civilizations (
or your own
) in conquering a galaxy that once belonged to a race of
Precursors
known only as the Endless. The galaxy is randomly generated each time and can vary in size and shape, depending on how the host player chooses to generate it. The game's economy is centered around four basic resources: food, industry, dust and science, or FIDS. Dust is
a substance created by the Endless
and has some fairly useful properties.
A player wins the game when they reach the requirements for a number of victory conditions:
Annihilation: If all other civilizations are wiped out the last civilization standing wins.
Expansion: conquer 75% or more of the colonized universe.
Scientific: the first player to research the Pan-Galactic Society, the last technology of the Science tree, wins the game. That particular technological wonder is very expensive, but reaching the ends of the other technology trees will make it easier to finish.
Economic: the first player to reach a certain level of cumulative revenue (Dust) wins. Only overall revenue matters, so it does not matter if you spent it all.
Diplomatic: if you manage to survive long enough while being at war the least amount of time, you may be able to impose yourself and win thanks to your wisdom and integrity.
Supremacy: the first player to own all the original players' homeworlds will win.
Score: if no one managed to win with one of the previous victory conditions, the player with the highest score wins when the turn limit is reached.
Wonder: If a civilization manages to build five large supercomputers they are able to actuality predict all possible actions done by other civilizations and move to stop them before they even think of doing it. So you control the galaxy by proxy.
In addition to intricate and addicting gameplay (in typical 4X fashion), the game also runs at least partially on Rule of Funny, giving it a very different tone than others of its genre. Additionally, the developers are allowing the players to actually vote on which features will be included in future updates of the game. Suggestions are also being taken sometimes, such as a new faction and several new achievements (which include the name of the player who suggested them).
Two Spin-Off games have been announced and are available via STEAM after going through Early Access. The first is Dungeon of the Endless, a Rogue Like game which has you coordinating a team of crash-landed prisoners and/or prison guards trying to survive and escape from an underground network of Endless-built workshops and storerooms. The second is a fantasy 4X named Endless Legend, which is set in the same universe as Endless Space. A sequel was released in 2017.
Not to be confused with Infinite Space.
---
Contains Examples Of: