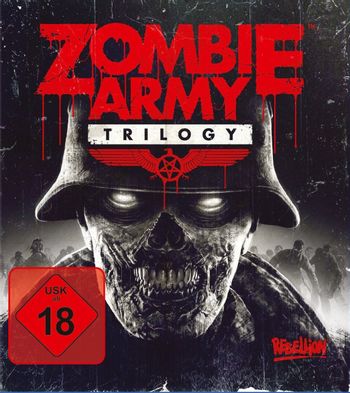 Zombie Army Trilogy
, developed by
Rebellion
, is an
Updated Re-release
consisting of the first two
Nazi Zombie Army
campaigns, along with a third, final campaign in the series. It was developed for the PC, Xbox One, and Playstation 4, while the first two
Nazi Zombie Army
games were originally released on the PC, Xbox 360, and Playstation 3.
The original Sniper Elite: Nazi Zombie Army was a standalone expansion based on Sniper Elite V2, released in late February 2013. Its features include a 1-4 player co-op campaign, incredibly dense clusters of lumbering enemies, new weapons (including shotguns), all weapons from the original game and its DLC, and the stealth elements of the main game largely removed due to the sheer number of enemies you're facing.
The sequel to Nazi Zombie Army, naturally called Sniper Elite: Nazi Zombie Army 2, was released on October 31st 2013.
Zombie Army Trilogy itself was released on March 6, 2015, and concludes the series. Or so we thought... a cinematic reveal trailer
at E3 (June 2019) confirmed Zombie Army 4: Dead War and released in early 2020.
Rebellion published the five part comic Zombie Army Last Rites in the Judge Dredd Megazine and the novel Zombie Army Fortress Of The Dead to tie in with the release of Dead War.
---
Tropes found in the original Zombie Army Trilogy include:
Tropes unique to Zombie Army 4: Dead War include: