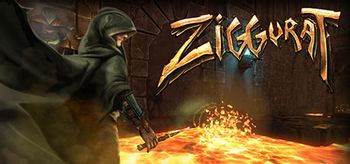 Ziggurat is a video game first released on Steam on the 23rd of October 2014. It blends a high fantasy setting with old-school First-Person Shooter gameplay in the vein of Heretic, with a side of Roguelike, featuring randomized levels and equipment drops as well as final death.
Its plot puts you in the shoes of a student in the Greyhorn citadel, studying magic with aspirations of ultimately joining the brotherhood of Daedolon, the ancient protectors of the lands. Every ten winters a ceremony is held in which worthy students enter the legendary Ziggurat filled with dangerous monsters and traps, to test their abilities. Only those that make it through alive are granted membership in the order.
Will you be one of those that make it through? Or will you be yet another casualty of the Ziggurat?
Enter!
It was followed in October, 2021
by the sequel, Ziggurat 2.
---
Tropes:
Random Drop: What weapons and amulets you find in the levels are entirely randomized. Their properties, however, remain consistent.