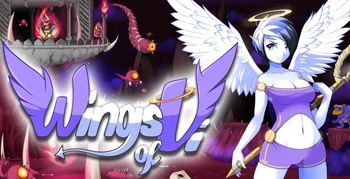 Wings of Vi is a 2014 action-platformer by Solgryn, creator of I Wanna Be The Boshy.
Vi is an angel who lives in the Floating Keep. The story begins with her friend Rubi calling her out to check out the previously-guarded prison that demon lord Jeh'oul is kept at. After throwing rocks at him for revenge of his past attacks on the angel race, he unleashes a roar that knocks Rubi down and Vi into the only switch keeping him bounded. Vi leaves just to see that her hometown is infested with demonic forces, sees Rubi getting captured by one of them, and taking her Staff of Purity to set off and properly slay Jeh'oul.
You can view an archive of the game's official page here.
The game can be bought on Steam.
---
This Game has Examples of: