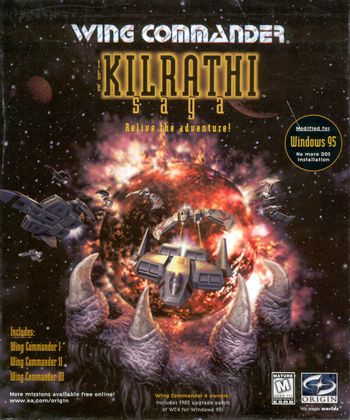 We're headed to Kilrah with that thing, aren't we?
Well, what would you aim for if you had the biggest gun in the universe?
— Colonel
Christopher "Maverick" Blair
and Admiral
Tolwyn
, discussing the
TCS Behemoth
Wing Commander: The Kilrathi Saga is a collection of space combat simulation games by Origin Systems. It comprises the first three games in the Wing Commander series: Wing Commander (1990), Wing Commander II: Vengeance of the Kilrathi (1992), and Wing Commander III: Heart of the Tiger (1994). The full story of the epic interstellar war between the catlike Kilrathi and the human Confederation which spanned more than ten years comes together in one handy source.
The first two games use 2D hand-drawn graphics for cut-scenes and scaled 2D sprite graphics for space combat. The third game features full motion video for cut-scenes, with 3D polygonal space combat graphics. All three feature mission-based space combat flight simulation gameplay which allows you to fly a variety of Confederation fighters and bombers against the equally varied Kilrathi arsenal of ships.
Although the graphics of the games in the compilation, the last of which came out in 1994, may not fare well compared to modern games, the games in the series are very enjoyable nonetheless, with fast and furious space dogfights controlled by a very easy and intuitive interface. Retro-gamers who want to experience some of the best space combat simulation action ever offered on the PC who don't mind outdated graphics will be thrilled with Wing Commander: The Kilrathi Saga.
The story takes young Christopher Blair through the initial Kilrathi invasion, his reemergence as a hero after a ten-year exile due to perceived negligence that led to the destruction of his ship Tiger's Claw, and the final confrontation that takes the war to the heart of the Kilrathi empire.
---
The games contain the following tropes:
---