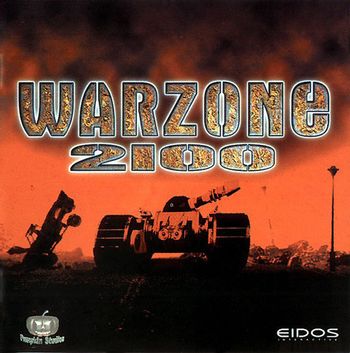 Warzone 2100
, released in 1999 by Pumpkin Studios, is a
Real-Time Strategy
game and was one of the first to be fully 3D along with
Homeworld
. Pumpkin eventually closed down, but the game did not die. On December 6, 2004, a day now celebrated by its fans every year as 'Liberation Day', the game's source code was released under the GNU General Public License, making it a freeware game. A small but dedicated group of fan followers have worked to keep the game alive and improve it, under the Warzone Resurrection Project(also known simply as 'the Project', a token to the game's protagonist faction of the same name).
The game is set in a post-apocalyptic scenario in The Future, in, obviously, year 2100. In year 2085, a space-based American nuclear deterrence system, NASDA, develops what is thought to be a systems fault and launches nuclear missiles at all the major cities around the world. The world's countries, detecting the launches, fire their own nukes at North America, and NASDA's Laser Satellite defenses fail to fire against them. In an Planetary Societal Collapse Apocalypse How that becomes known as "the Collapse", civilization collapses, and nuclear winter ensues. The surviving humans split into bands of scavengers as a result, fighting for survival.
A small group of survivors fled Seattle in early 2086, trying to escape to the Rocky Mountains, which they had heard to be relatively radiation-free. After a long struggle against marauders, and wars over the most basic of resources, they find an abandoned underground military base. The group took shelter here and, eventually, were able to restore the old systems to service. They were determined to build a new world out of the ruins and recover as much pre-Collapse technology as possible. They called themselves the Project...
The game has two main modes: the campaign, and a sandbox mode called 'Skirmish', which can be played online against humans or against A.I opponents. The campaign follows the story of the Project, as they search for Artifacts of technology from before the Collapse, encounter and fight off hostile Scavengers, meet factions like the New Paradigm and Collective who are not friendly, and eventually discover the true cause of the Collapse.
The game has some unusual features in that its units are not preset - they're modular and designable, and the weapons, chassis and propulsion options are unlocked from research or, in the campaign, through Artifacts. Vehicle bodies are available in different sizes and larger bodies require larger factories. Ground propulsion options consist of basic wheels, moderately armored half-tracks, heavily armored tracks, and fast but fragile amphibious hovercraft. Aerial propulsion exists via Vertical Take-Off and Landing (VTOL) technology and allows for hover-capable air units, which require a separate aircraft factory to build. Also present are cyborgs, cheaper (but weaker) infantry units that, unlike tanks and aircraft, are not modular or customizable, produced by their own factory.. There is only one resource used to build everything - power- which is produced by Oil Derricks connected to Power Generators. Artillery and VTOL air units can also be attached to complex sensor networks to guard areas, coordinate attacks, and retaliate against enemy artillery attacks. Commander units also exist, but their role is to merely coordinate ground forces, and are not super units.
The now-freeware version can be found here
.
---
This game contains examples of:
---