"You don't look like the next Firestar."
—Badgerpaw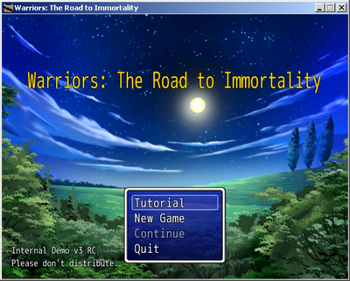 Warriors: The Road to Immortality is an upcoming Warrior Cats fan game created in RPG Maker by Faithful monk
/Leonard.
Generations have passed since the time of Firestar, and while many things have changed for the Clans around the lake, just as many have stayed the same. The game follows a young cat named Snowpaw, who joins ThunderClan hoping to become strong enough to defeat a group of cats that have been terrorizing them and their friends in the Twolegplace. However, not all is right in the Clans. Tensions are high, and mysterious cats are conspiring to bring a dark fate to the cats around the lake.
The game is based around choice, with the player's choices having an impact on their relationships with the other characters and how the story unfolds. In the end, Snowpaw may become a legend, or might be forgotten by all.
While the game is still in development, a sizable demo has been released, during which Snowpaw joins ThunderClan and gets to know his/her new Clanmates.
The official website can be found here
. The demo can be downloaded here
. (Mirror here
.)
---
This game contains examples of:
---