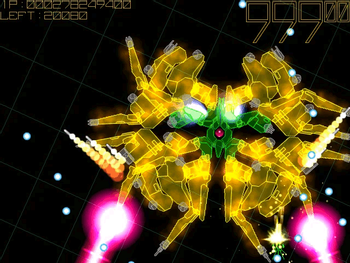 Warning Forever is a Bullet Hell game developed by Japanese freeware programmer Hikoza T. Ohkubo, and released for PCs on July 24th, 2003. It is available for download here
.
In the game, you play as the pilot of a starfighter tasked with defeating an endless series of enemy bosses. The game is notable in that the enemies actively adapt to your tactics; if you've been focusing on destroying one particular segment, expect that segment to be reinforced. Likewise, if a certain weapon kills you, expect more of that weapon in the next form.
It also inspired the real-time tactical game Battleships Forever, the Boss Game Fraxy and the Xbox Live Indie Games title Infinity Danger.
This game provides examples of:
---