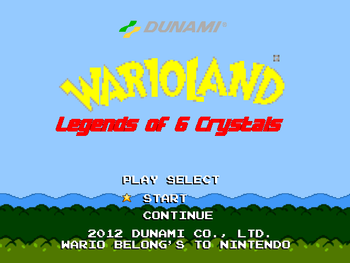 Wario Land: Legends of 6 Crystals
is a
Wario Land
fangame created by Radel999 (or HTFMegaman), the same person who made the
Happy Tree Friends Adventures
series.
The story begins with Wario going on a journey using his airplane, only for a rainbow-colored beam to hit him and causing him to crash land on an island. There, he's greeted by a girl named Kia, who somehow knows Wario's name. She tells him that the beam came from Equestria, a place that the island residents, including Kia, absolutely loathe and despise. Kia then asks him to kill the ruler, Princess Celestia, or the whole world will be destroyed by her.
Yeah... that's how the plot goes. Yes, it's a Crossover fangame just like Happy Tree Friends Adventures.
Like the official Wario Land games, this game is a platformer. Wario can use a variety of attacks depending on what power-up he's equipping. He starts with "Punch", which makes him charge forward. Other power-ups allow him to either throw bombs, shoot fireballs, or fly through the air. The only other "non-power-up"-based attacks are his Goomba Stomp and Ground Pound. Seeing that it's set in Equestria, your enemies are mostly colorful ponies, as well as some non-Equestrian oddities like Cheep-Cheeps and Spinies.
The game is divided into six stages, each having 4-7 courses, with the last course always ending with a boss battle. The stages can be re-visited by making use of Password Save.
While it's mainly centered around Wario and the residents of Equestria, it has a few references to other franchises as well as a few guest appearances.
A sequel is planned to be made, but it's currently probably stuck in Development Hell along with other upcoming Dunami games.
Radel 999 actually uploaded this game to a few sites, but some sites like Hotfile are taken down, one site doesn't seem to be trustworthy, and the one in MFGG is only the early demo version. That leaves only MediaFire as his only "perfect" place (for now, probably) to upload his projects. You can download the game here.
---
This game provides examples of: