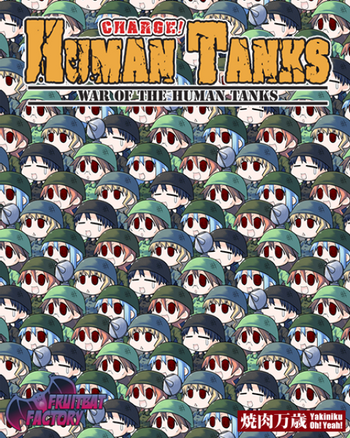 War of the Human Tanks
is the first game in the Japan-based series
Human Tanks, Charge!
developed by Yakiniku Banzai in December 2008. It was localized by Fruitbat Factory for western release on the 14th of September 2012 on Steam. The sequel
War of the Human Tanks – ALTeR
- being released on the 13th of February 2015 on the same platform, and the third game,
War of the Human Tanks – Limited Operations
came out on14th of June 2016. The fourth game in the series was announced at Comiket 82 in August 2012.
The consists of story-driven single-player hybrid turn-based/real-time strategy games where the player controls a force of the titular Human Tanks against an AI opponent. Combat is fast-moving and lethal, with most units going down in one hit, and is heavily affected by the Fog of War. In between levels, the player can develop and build new, better Human Tanks and modules to grow stronger. Story-wise, the games' themes generally revolve around the Human Tanks, the unshakably loyal almost-but-not-quite-human mass-produced soldiers whom the Empire of Japon and Kingdom of Japon field in their war for control of the land.
War of the Human Tanks places the player in the role of the recently unfrozen Lieutenant Shoutaro Daihon'ei, commanding officer of the 4th Armored Corps. You are tasked with assembling and leading an army of appropriately named Human Tanks against the Kingdom of Japon to turn around the war in favour of your own faction, the Empire of Japon, while avoiding deadly pitfalls and plots along the way.
The sequel, War of the Human Tanks - ALTeR is told from the point of view of the Kingdom's Lieutenant Alter Matsuyukishiro. Tasked by her cousin the Queen with removing a traitor in their ranks and staving off a mounting Imperial offensive, Alter must also work out her connection to Elle, a Human Tank whom she befriended as a child and has now mysteriously returned. A Sidequest Sidestory further explores the origin and philosophy of the Human Tanks.
The third game, Limited Operations, takes place 50 years after the Human Tanks were first developed. The radiotoxic particles on which the Human Tanks depend are being depleted, rendering many of them useless and leading to a winding down of hostilities between the Empire and Kingdom. Not everyone is pleased with this outcome, and the Imperial Major Yatarou Shirahase and the 4th Armored Corps are soon caught up in their plots. Gameplay-wise, it breaks from the previous two games in having a fixed set of units available for each battle instead of the player building up their resources and technology over the course of a playthrough.
---
This game provides examples of:
---