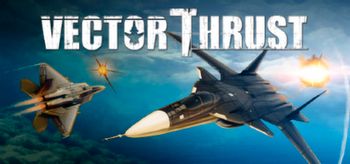 Vector Thrust is a cel-shaded action-arcade flight simulator. Made by studio Time Symmetry, mostly consisting of various community members from around the world, it aims to be an "airborne adventure that offers something for everyone." Notable is its rather brutal AI as well as an increasingly ridiculous amount of playable aircraft. Vector Thrust was designed from the ground up with the intent for moddability; since its release as an Alpha years ago, many fans have developed a variety of mods and add-ons with varying complexity, ranging from additional aircraft paint schemes and HUD redesigns to even completely new aircraft models. Also worth noting is the game's striking similarity to the classic Ace Combat and Air Force Delta video games - indeed, both Time Symmetry and the fans see it as a Spiritual Successor to those two franchises.
In terms of gameplay, Vector Thrust aims for a mixture of realism and arcade. For example, even though there are dozens of missiles at the player's disposal, missiles (and everything else, for that matter) are affected by semi-realistic physics which includes forces like gravity. An intricate jamming system is featured in the game, a far cry from the simple radar disabling in Ace Combat. Vector Thrust also offers a solid story-based campaign as well as a fully-functional Map, Mission and Campaign Editor.
Vector Thrust was released for PC in 2015 and can be found on ModDB
and on Steam
. It is not be confused with the iOS game Thrust Vector.
Tropes present in this game:
---