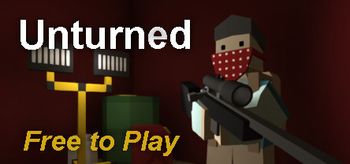 Unturned is a 2014 Survival Sandbox game by Nelson Sexton, founder of Smartly Dressed Games.
A combination of a Wide-Open Sandbox and Survival Horror game. You're dumped completely naked into a Zombie Apocalypse and have to find a way to survive. You can scavenge supplies from the abandoned towns and facilities or take to the wilderness to build a new settlement and grow your own food. Servers allow for play with your friends or engage in PvP with bandits and traps.
Unturned passed through Greenlight and Early Access on Steam and was officially launched in July 2017.
---
This game provides examples of:
---