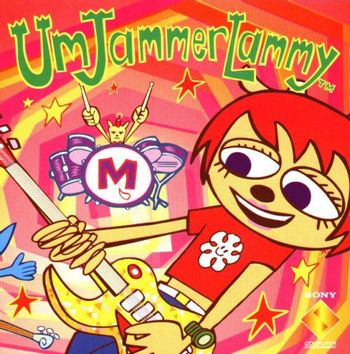 "Leave it to Lammy!"
— Lammy's motto
A Rhythm Game developed by NanaOn-Sha and released by Sony Computer Entertainment for the PlayStation in 1999, Um Jammer Lammy is a rock-themed Spin-Off of PaRappa the Rapper. It features the same visual aesthetic and gameplay as its predecessor but focuses on musicianship rather than rapping and has a tighter storyline.
Lammy is an extremely talented yet cripplingly shy lamb-girl who plays guitar for the garage rock band MilkCan with bassist/vocalist Katy Kat and drummer Ma-san. On the morning of a big concert, Lammy oversleeps and rushes to make it on time, only to encounter one silly obstacle after another. It's up to Lammy to use her super guitar-playing skills to make her performance.
For one of its soundtracks, see Make It Sweet!.
---
Tropes appearing in Um Jammer Lammy:
---