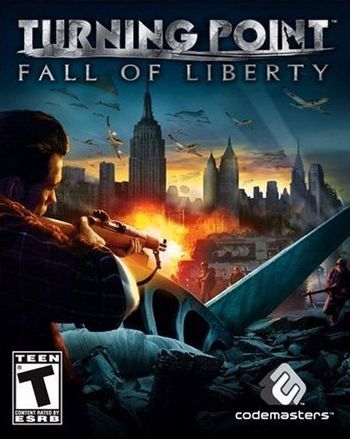 A
World War II
Alternate History
First-Person Shooter
that was developed by (now defunct)
Spark Unlimited
and published by
Codemasters
in 2008 on
PC
,
Playstation 3
and
Xbox 360
.
On December 13, 1931, Winston Churchill was hit by a cab while visiting New York City. While in real life, Churchill was only mildly injured, in the game's universe, the accident causes his death. Years later, without Churchill's foresight and leadership, the United Kingdom falls to the Third Reich in 1940, and the rest of Europe, North Africa, and the Middle East fall soon afterward. While in the United States, the nation chose an isolationist policy, implemented by Republican president Thomas E. Dewey (who defeated Harry Truman in 1948).
A period of development follows the success of the Axis Powers, transforming conquered Europe, Asia and Africa into the Greater German Reich and allowing allies Japan and Italy to share in the prosperity; at the same time, the Nazis start to built up their military. Eventually, in 1953, they launch a massive, surprise invasion on the U.S., one of the few nations that is still free from German rule. The player takes control of Dan Carson, a New York construction worker, and joins the American Resistance against the invaders.
Despite an interesting plot, the game received generally very negative reviews. The criticisms include a flat, linear storyline that provided little characterization, a very short campaign that can be finished in two to three hours, a lackluster and unamusing multiplayer mode, and frustratingly uncooperative gameplay actions, such as climbing ladders. In response to the reviews, the developers have stated that their game was not intended for hardcore gamers, but rather a more casual audience.
---
This game features examples of the following tropes:
---