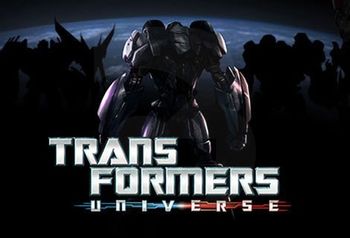 Transformers Universe
was an online
MMO
-
TPS
, somewhat similar to
Transformers: War for Cybertron
with its
Class System
, but the graphics were a little lower and the designs took their cue from
Transformers: Prime
. It was a browser-based game similar to
RuneScape
and was made by
the same company
.
The game was only in open beta for its short lifespan, and it has been said that the available content was only about 10% of what was planned. It appeared to feature the exact same story as most Transformers franchise storylines of Autobots vs. Decepticons.
Jagex and Hasbro announced that they would begin closure of the game on December 16, 2014, and the servers were shut down for good on January 31, 2015.
See the trailer here
.
---
This game provides examples of: