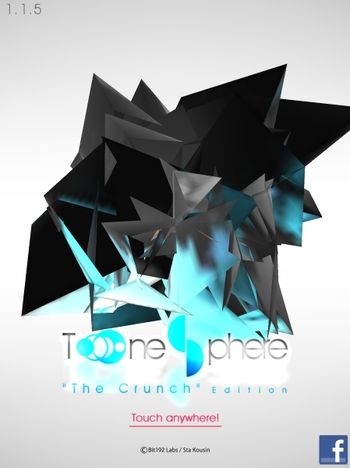 Tone Sphere
is a Rhythm Game developed by Sta Kousin of Bit192 Labs. It was released on iOS as a paid purchase in 2012 and Android for free in 2017.
The object of the game is simple: As the music plays, circular notes will appear on the screen, and you must tap on them when converging circles overlap the notes. Occasionally, the game throws out "hold" notes that must be held down until they vanish, and "slide" notes that must be dragged into from outside of the note. Notes may also rotate, zoom, and scroll to where you must hit them.
In addition to the initial Press/Start and Solarsphere episodes, several more have been added since the game's release:
Darksphere and Darksphere/XXXL (2017) — paid DLC for Android, free for iOS
Sun and Moon (2019) — paid DLC
Empyral Bon Voyage (2019) — paid DLC
Six Seconds Later (2020) — paid DLC
Lights Go Round (2020) — paid DLC
In May 2020, Sta hosted a crowdfunding campaign
to support continued development of the game as well as its sequel, Starbirth
, which was formally announced in June 2021. It has raised over ¥2.4 million and met two of the funding goals; as a result the game got a new noteskin and the Lights Go Round DLC pack.
---
Tone Sphere provides examples of:
---
★★★★★★
FANTASTIC!
---