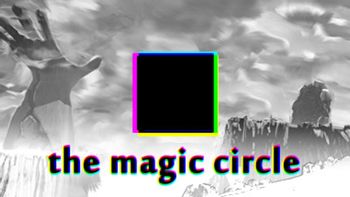 The Magic Circle
is an extremely
metafictional
game currently available on
Steam
.
In-Universe, The Magic Circle is a widely acclaimed text-adventure game from the glories of gaming's past. Featuring an incredible world, rich, detailed text and a number of innovative gameplay features, Circle went on to become one of gaming's greatest treasures.
Cut to 30 years later—the lead developer of Circle, Ishmael "Ish" Gilder, has decided to remake his game entirely as a 3D RPG in the first person perspective, and has a number of coders, artists, composers and a budget a mile-high behind him. Unfortunately for him, he has no idea how to make one of these games. After a number of years and constant failure after failure, the world that comprises the game is in an unfinished, broken state. The developers argue and change things at random, playtesters come and go, and the game is undeniably a total mess.
That's where you come in. One of the game characters - known only as the "Old Pro" - has achieved sentience and wants the game to be finished so he can live his life in the game. He bequeaths upon you, a playtester in over their head, the ability to rearrange and manipulate several assets of the game in an attempt to get you to finish the game before it's cancelled for good.
---
The Magic Circle provides examples of the following tropes:
---