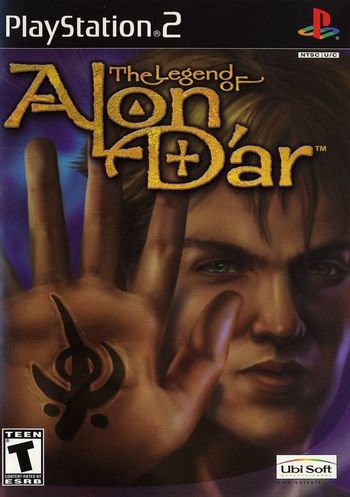 The Legend of Alon D'ar
is a fantasy role-playing game for the
PlayStation 2
. Developed by Stormfront Studios and published by Ubisoft, it was one of the earliest releases for the console, coming out in 2001. The game operates on a similar mechanism to Active Time Battle, in which the player must wait his turn to attack. This wait time is dependent on the weapon being used; light weapons will be used faster than heavy, etc. There are also a variety of spells to use. Like other such games, it has a fairly vast setting, with several towns to explore and a number of monsters to fight. Once more characters are unlocked, two players can work together.
The game's story takes place in the world of Chandar (which is not so much a world as a single floating continent). Jarik, the protagonist, has a dream about some nightmarish being called Zaharanar awakening and begins to take hold of the magical energy binding the world, called the Wyrd. Not long after, his village gets attacked by shape-shifting creatures in the form of Dagani, one of the other races that call Chandar home. After killing one, Jarik gets burned by a stone it spits up, branding him with a strange rune. He's soon sent on a quest to find out the meaning of the rune and why these creatures are being sent out to raid and turn the races against each other. Along the way, he acquires three other companions: Tahir the Dagani, a member of an amphibious swamp-dwelling species, Tylonee the Kemarran, an Amazonian-like people and Sun-Deep the Sarojin, who are basically lizard people.
The game was not well received upon its release. While it was certainly considered ambitious and its lore is well developed, it was bogged down by mediocre graphics, a tedious playthrough and all around generic atmosphere.
---
The Legend of Alon D'ar contains the following tropes: