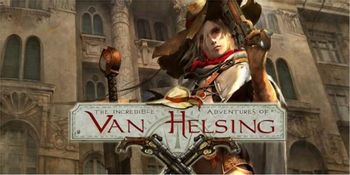 The Incredible Adventures of Van Helsing
is an indie
Hack and Slash
RPG by Neocore Games (who also created
King Arthur: The Role-Playing Wargame
).
You play as the world famous monster hunter Van Helsing...'s son. Ever since your father retired from adventuring, you have taken up the family wide-brimmed hat and cloak and have become a famous monster hunter in your own right, accompanied by your loyal, but snarky companion, Lady Katarina (a centuries old ghost).
One day, you receive an alarming mission. The country of Borgovia, which your father brought peace to by forming a peace treaty between the country's humans and monsters, has suddenly fallen into chaos, and in that chaos has arisen a brutal dictatorship ruled by Professor Fulmigatti. Taking up your trusty swords and pistols, you depart for Borgovia, intent on finding out what exactly has happened, and to bring peace back to the land.
Of course, nothing is ever that simple...
A sequel (named Van Helsing 2) was released on May 22, 2014. In it, after successfully overthrowing Fulmigatti, Van Helsing leads the Borgovian Resistance against the Mad Scientists that rule the land, and their new leader General Harker. 2015 saw the release of a third game (in which Van Helsing must hunt down his nemesis and save Borgovia once and for all), as well as a "Final Cut", which lets one play through the three games' stories in one campaign, and the spin-off Deathtrap, expanding upon the original's Tower Defense sections as an unrelated hero tries to stop an invasion of monsters from a recurring alternate dimension called the Ink.
This game provides examples of:
---