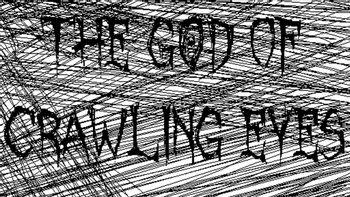 The God of Crawling Eyes is a 2013 freeware horror game for PC made by Housekeeping. It was developed in Useful Notes/RPG Maker VX and can be downloaded here
.
Max, a colorblind teenager, goes to his school and quickly finds that all is not well when ominous black smoke starts appearing, and most of the school is found dead. A friend of Max's named Chase suggests that the reason for these odd occurrences may be because of a missing student rumored to be dead within the school. It gets worse.
Not related to the 1958 horror film The Crawling Eye.
---
The God of Crawling Eyes contains examples of:
---