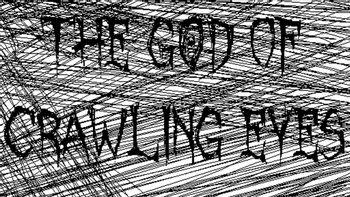 The God of Crawling Eyes is a 2013 freeware horror game for PC made by Housekeeping. It was developed in RPG Maker VX and can be downloaded here
.
Max Cieco, a colorblind teenager participating in an experiment to gain the ability to see color, goes to his school to attend his usual lessons, along with his best friend Chase, a fan of horror movies, and Lily, a cute girl he has a crush on. When sent by his teacher, Miss Blackmore, to go get something for her, he quickly finds that all is not well when ominous black smoke starts appearing, he begins seeing the color red, and the lights go out- after which most of the school is found dead.
Chase suggests that the reason for these odd occurrences may be because of a missing student rumored to be dead within the school. Then he discovers that the student is connected to a cult who worships a dark eldritch entity, the God of Crawling Eyes, and the god begins manifesting inside the school. Now Max must save Chase and Lily from the creature and escape the school.
Not related to the 1958 horror film The Crawling Eye.
---
The God of Crawling Eyes contains examples of:
---