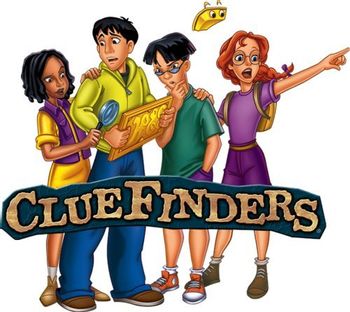 The ClueFinders
is a series of
Edutainment Games
from
The Learning Company
. The eponymous
Kid Detectives
consist of adventurous tomboy Joni Savage, brilliant mechanic Santiago Rivera, cool dude Owen Lam, and bibliophilic expositor Leslie Clark. They are accompanied by LapTrap, a hovering yellow robot who provides the game options for the player.
The series is aimed at kids aged eight to twelve, having been a follow-up to Reader Rabbit, which is aimed at kids aged up to seven or so. Generally, each ClueFinders game features the kids having to solve a thrilling mystery, often in some type of exotic locale like a tropical rainforest, Egypt, or (one time) an alien planet. The kids are nearly always split into two separate coed teams, but you're able to contact the other team for help using the red videophone. The actual gameplay tends to be heavy on Alphabet Soup Cans and Fetch Quests. ​Most entries in the series have some kind of third-act twist, in which the answer to the mystery is revealed. Usually, there are enough clues to at least guess at the answer to the mystery ahead of time.
The series consists of:
The ClueFinders Math Adventures Ages 9–12: Mystery in the Himalayas (1998) - When priceless treasures are stolen from a small Himalayan village, the ClueFinders come to investigate. Could the mysterious yeti be behind the thefts? In 1999, this game received an Updated Re-release with improved graphics and the storyline reworked. Most notably, the newer version cut a subplot in which LapTrap was zapped with the wisdom of the ancients.
The ClueFinders Search and Solve Adventures: The Phantom Amusement Park (2000) - The ClueFinders have spotted an S.O.S. signal coming from the local Amusement Park of Doom. It turns out that Jacques Ramone, the curator of the art museum, is trapped on a ride, and that's not the only weird thing going on inside this supposedly abandoned park.
The ClueFinders Real World Adventure Kit (2000) - A bonus disc that features various applications and printouts for your own adventures in Real Life. If you ever wanted a diary or money tracker with a ClueFinders theme, this is the title for you.
The ClueFinders: The Incredible Toy Store Adventure! (2001) - While checking out an amazing new toy store in San Francisco, Joni and Owen are hit by a Shrink Ray. This is the last entry in the series proper, and the only one not to feature the original voice actors.
The ClueFinders: Mystery Mansion Arcade (2002) - A non-educational bonus disc in which the ClueFinders must deal with a Villain Team-Up. This game uses the same voice actors as Incredible Toy Store Adventure.
In addition to the computer games, the ClueFinders also appeared in two print books, The Mystery of Microsneezia and The Mystery of the Backlot Banshee, both written by Ellen Weiss and published in 2004.
---
Call the TropeFinders!
Tropes exclusive to the spin-off books:
---