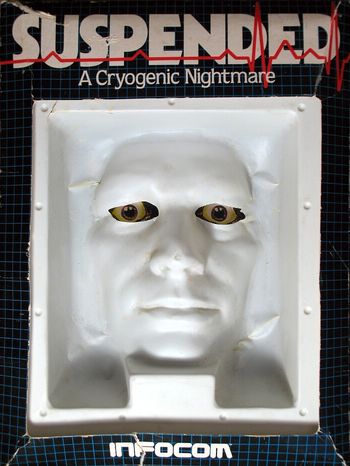 A
Text Adventure
, released by
Infocom
in 1983.
The story is set on Contra, a human-settled planet in the distant future. Civilization's higher functions are tended to by three Filtering Computers, which control the weather, food production, and the transportation system correspondingly. These computers are monitored by the Central Mentality, a random guy who won a lottery and has been turned into a Human Popsicle while his brain runs everything. The ideal is for the CM to stay in such a state for 500 years, at which point they'll be revived and replaced with the next one.
Of course, this is where things go wrong.
The current CM (you) is suddenly woken by a series of error messages. An earthquake has damaged all three Filtering Computers, causing chaos and death on the surface. The guys that put you in there had no backup plans in case of such a catastrophic failure, leaving you to try and fix all three before too much damage occurs. Unfortunately, because you're still in a tube, you have to mentally control six robots in the facility, each of whom has a very specific function. Even worse, a previous CM (Gregory Franklin) went insane and tried to destroy the planet, meaning the public has very little tolerance for this kind of situation. If the death toll gets too high, they'll be coming down to fix the problem themselves... by shutting you down.
---
This game contains examples of:
---