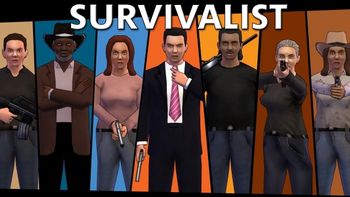 "A fort... a community... yeah, that'd be a good idea."
Survivalist is a Survival Sandbox game with a top-down view, made for PC by Bob The PR Bot and released on Steam on January 31st, 2015, after spending several months in Early Access. It's centered around Joe Wheeler, a sociopathic hedge-fund manager who emerges from his bunker a year after a Zombie Apocalypse.
A sequel is planned and in progress, and the game itself is currently in the midst of a public beta with online co-op.
Survivalist contains examples of the following tropes:
---