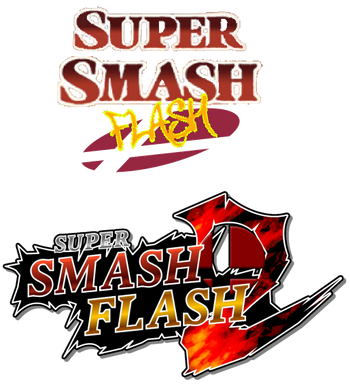 "Made by McLeodGaming, a group of passionate Smash Brothers fans, the
Super Smash Flash
series has done an admirable job of creating a fast-paced game with an excellent physics engine. Most impressive, it truly feels like Smash Brothers - no easy feat considering the game and its engine were made from scratch."
—
Smashboards News on the release of v0.9b
Super Smash Flash
is a series of Flash-based Platform Fighter Super Smash Bros. clones by McLeodGaming, hosted and playable on their website
.
The original Super Smash Flash
, released in August 2006 on Newgrounds, is somewhat weak; among other things featuring only one attack buttonnote Although, not one attack, like most reviews of the game incorrectly state. The in-game tutorial even says that you can do up to five moves with it depending on how you use it. It was nonetheless notable for its large amount of unlockable content.
The sequel, Super Smash Flash 2
, which is currently in its beta release, started out as just a similar fun little project that added special moves but didn't even consider most of the mechanics at first. However, after a number of suggestions and positive reception from fans, it began to piece things together slowly around the bare-bones engine with each new demo version and, after having undergone a full-blown Retool in 2011 with a vow to aim for professional quality, is shaping up to be a true Flash installment of Super Smash Bros..
open/close all folders
Features playable characters from:
Introduced in the first game:
Note: An asterisk (*) denotes a series with playable characters exclusive to the first game.
Added to the second game:
Features other elements from:
Note: This list does not include series that playable characters are drawn from. An asterisk (*) denotes a series with elements exclusive to the first game.
The first game:
The second game:
---
Along with many tropes in the official Super Smash Bros. games, these games contain examples of:
Tropes present in the series as a whole
Tropes present in Super Smash Flash
Tropes present in Super Smash Flash 2's development
Tropes present in Super Smash Flash 2
---