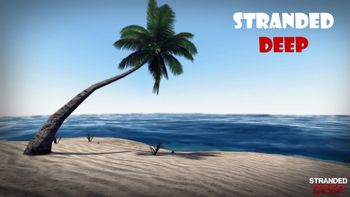 You find yourself comfortably seated in the cabin of your private jet, enjoying a nice, calm flight. You get restless, decide to make yourself a martini, and suddenly everything starts going to hell. Your plane goes down, the cabin rips apart, and suddenly you're struggling to find the surface in a dark, murky ocean. One quick scurry into a life raft later and you're... well, you're
stranded deep
in the middle of seemingly uncharted waters. You wade over to an island, jump onto shore, and start your survival experience.
Stranded Deep, created by Beam Team Games, is a rather straight Survival Sandbox title set in a vast, randomly generated ocean of islands and shipwrecks. You're tasked with finding and managing resources, building a shelter, and eventually, finding means of rescue.
The game released in Early Access
on Steam on January 23rd, 2015. The full game was released on April 21st, 2020.
Examples you'll encounter in Stranded Deep:
---