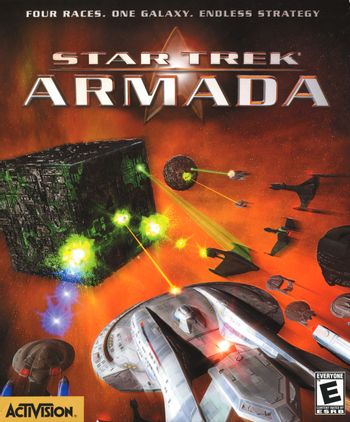 Picard:
"Locutus..."
Locutus:
"Picard, lower your shields and prepare to be assimilated."
Picard:
"If you are truly who you appear to be, you must know I will not comply."
Locutus:
"You will comply. Your defensive capabilities are no match for us. Your culture will adapt to service ours. Resistance is and always has been futile."
— Star Trek: Armada
"The Federation stands on the precipice of another major conflict that threatens the fragile peace we have worked so hard to achieve. It's been six months since we successfully dealt with the threat of the Omega Particle. Tensions between the Cardassians and the Klingon Empire are on the rise, and we've just received word of a renewed Borg threat."
— Picard, Star Trek: Armada 2
A series of Real-Time Strategy Star Trek games, the first of which was released in 2000, which take place in the same Alternate Continuity as the Star Trek: Elite Force, Star Trek: Bridge Commander, and Star Trek Away Team games, as well as Star Trek: Starfleet Command 3.
The general plot of both games deals with what essentially amounts to an all-out war against the Borg Collective, though the plot of the first is a bit more complex than that.
Both are generally good, though somewhat standard, RTS games in their own right. Their most distinctive element is they way the explicitly follow the franchise's implicit dark side, by handling crewmen as a mere resource...
While there are only two official games, Star Trek: Armada 3 is an ongoing
Game Mod project for Sins of a Solar Empire (which also requires the Rebellion expansion to work.) Even before its release in September 2021, it had already received enough attention to win MODDB's "Mod of The Year" award in 2015.
Both games are available at GOG.com if you'd like to play them.
---
These games contain examples of:
---