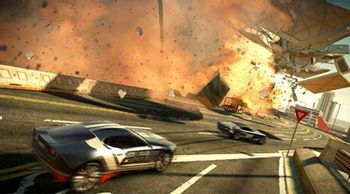 One day, the fine folks at Disney Interactive Studios, after watching a 10-hour marathon of Michael Bay movies, picked up a Need for Speed game and thought, "This is fun, but it's missing something... explosions!" And with that, the game Split/Second was born.
Split/Second (Split/Second: Velocity in Europe) is a racing game set up like a reality/Game Show (not to be confused with the Tom Kennedy quizzer from The '70snote which aired on, ironically, ABC, owned by Disney since 1996 or its 80s revival with Monty Hall) in which racers compete through 12 episodes of an internationally broadcast television series, also titled Split/Second. The racing is much like it is in any arcade racer, with one key difference: at any point, after accumulating enough energy (through drifting, drafting and jumps), racers can set off "Power Plays" in which bombs are dropped from helicopters, cars and trucks on the side of the track are blown up, overhead cranes and bridges are blown up and fall onto the track, the road itself is blown up to change the route of the course, buildings fall over, planes fall out of the sky... yeah, it's basically Burnout turned into a Summer Blockbuster.
However, racing isn't the only mode available.
Detonator has you do a timed solo lap of the track while pretty much every Power Play on the course gets set off to try and kill you.
Survival has you racing semis against a time limit while they drop exploding barrels at you, which either slow you down or wreck you, depending on the type of barrel.
In Air Strike, you earn points dodging an attack helicopter firing missiles at you; better evasions earn more points.

Air Revenge is similar, but drifts and successful dodging allow you to gain power to shoot the missiles back at the helicopter and destroy it.
Why, yes,
all
of the game modes directly involve explosions in one way or another.
All it's missing is Megan Fox and Linkin Parknote or not, considering the fact that she wasn't in the third Transformers movie.
A sequel was in development, but Disney cancelled the project
, leading to the studio's ultimate closure.
In 2021, over 10 years after the original game and the closure of Black Rock Studios, a Spiritual Successor was made called "Detonation Racing
", exclusively released for Apple's Apple Arcade subscription platform and produced by many of the original members of the Split/Second development team (who went on to form the game's developer Electric Square).
---
Tropes:
---