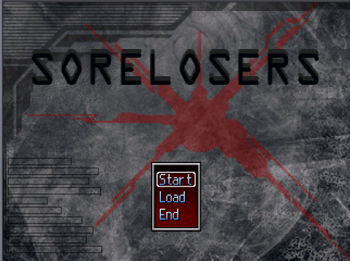 Sore Losers is a 2010 freeware RPG, developed by Sated in RPG Maker. It is set in the Slums of Central Ferusia, which are used by the fascist Government of Ferusia to house all of the criminals instead of maintaining prisons. These slums are separated into four sectors of differing levels of prosperity; the richest area isn't much different from typical suburbia, and can afford to pay the Ferusian Soldiers for protection. Other areas are at the mercy of gang leaders, and are also at risk of attack by mutated wildlife from the uninhabitable slums.
Our protagonists are Markus and David, two relatively experienced gang members working for Jade, a former rebel who's largely succeeded in cleaning up her sector. The game begins when she tasks them with stealing the Black List of all the people sentenced to live in the Slums, thus allowing her to write anyone out of it and making escape without re-capture possible. They succeed at it; however, they run into Alexis, a former Ferusian Captain now on the run from the government, and things rapidly go to hell from there.
You can download the game here
.
This game provides examples of the following tropes:
---