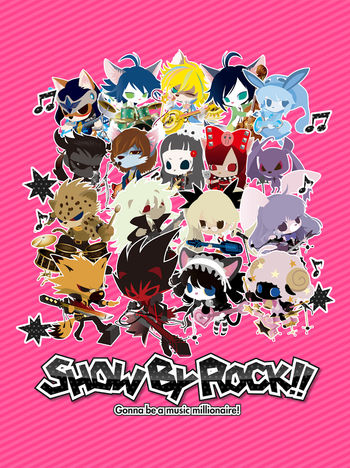 Show By Rock!! is a Japanese mobile rhythm game created by Sanrio, developed by Geechs and currently managed by Edia. Unlike most of Sanrio's other works, Show By Rock!! is aimed toward an older audience including adult men, as opposed to purely young girls. The game has three lanes, with taps and holds. Players need to get bromides (cards) in the game with skills that help them in gameplay. There are 27 bands currently in the game: 14 original bands, and 13 based on real Japanese musicians.
An anime adaption of the game started in April of 2015, and aired with four seasons and one spinoff miniseries come 2020.
The original game ended service on December 26, 2019. The setting was moved to a new Rhythm Game app, Show by Rock!! Fes A Live, featuring more new characters (including those introduced in the anime Show by Rock!! Mashmairesh).
With the many characters in this game, please put tropes about specific characters in the Characters page.
---
This game provides examples of: