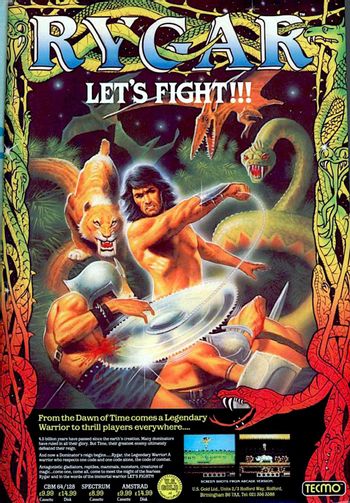 Rygar is an adventure video game created by Tecmo and first released in Japan under the name Argus no Senshi (Warrior of Argus). The player assumes the role of the "Legendary Warrior" who travels through a hostile, monster filled landscape, his only defense the mystical Diskarmor, a shield with a long chain attached to it.
Rygar was first released as an arcade game, later ported to the Sharp X68000, Commodore 64, the NES, Sega Master System (Japan only; as Argos no Jūjiken), Spectrum 48K, Amstrad 6128 and the Atari Lynx. It was also included in a compilation of games called Tecmo Classic Arcade for the Xbox. The Lynx port of Rygar in TCA closely followed the arcade version, and the NES port was completely different. In November 2002, Rygar was updated and released to the PlayStation 2 as Rygar: The Legendary Adventure, and ported to the Wii under the title Rygar: The Battle of Argus.
---
This video game contains examples of:
RPG Elements: The NES game has some which are presented pretty cryptically. Rygar's status screen has two stats known as "TONE" and "LAST" that go up as you kill enemies. TONE refers to the Diskarmor's power level, and each time you accrue 48 LAST, you gain an extra hit point to a maximum of twelve. Both stats max out at 4095. It also has three unexplained spells you can cast with your MIND gauge: Power Up, which speeds up and lengthens the Diskarmor's chain; Attack & Assail, a Smart Bomb worth ten Diskarmor hits; and Recover, which replenishes your health.
Stalked by the Bell: In the arcade version, an ominous red monster will swoop at you once the timer runs out. (It's not too hard to avoid, though.)
---