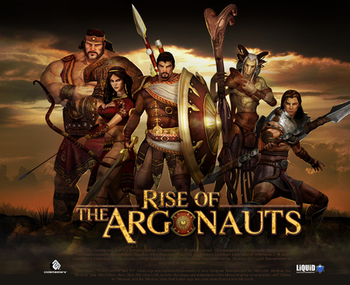 Rise of the Argonauts is a Multi-Platform video game based off of the myth of Jason and the Argonauts, developed by Liquid Entertainment and published in 2008 by Codemasters.
When his bride-to-be Alceme is murdered, King Jason of Iolcus sets out to find the Golden Fleece, which is said to have the power to raise the dead. Apollo's oracle tells Jason that he must find the bloodlines of Ares, Athena, and Hermes to open the path to where the Fleece is located. Along the way he encounters and recruits powerful warriors and allies in his quest to resurrect his wife and defeat the dangerous madmen who threaten all of Greece.
Rise of the Argonauts is built around a conversation tree system similar to the one in Mass Effect, with choices drawing from the virtues of Ares, Athena, Apollo, and Hermes. The gods also have favored weapons, respectively the mace, spear, shield, and sword, all of which Jason carries into battle.
---
Tropes appearing in this game:
Absurd Cutting Power: Sword finishing attacks can bisect the target at the waist. Spear finishing attacks can include decapitation by shield strike.
Barbarian Hero: Ares encourages employing forceful action and instinctual brutality, and acting like this earns you his favor. Ares believes a warrior who thinks long lives short and that only instincts should be trusted.
Battle of Wits: Phaedon's boss fight begins with a battle of rhetoric. After losing, he cuts to the chase and pulls a sword.
The Beastmaster: Nessus has managed to tame manticores.

And Hepna'je

. He's even called as such in the game.
Damsel in Distress: The action starts after Alceme is murdered, and the rest of the game is Jason trying to change that.
Dark and Troubled Past: Medea. In an atypical example of this trope, however, you can learn it the first time you speak to her aboard the Argo after enlisting her: when she was only twelve, her father decided to marry her to a suitor who was sixty. When he came to her bed, she murdered him and ran. Then the Blacktongues found her, promising her power, so she joined their cult so she could gain dark sorcery powers; unfortunately, she eventually came to realize that she was becoming a thrall to the Blacktongues and their goddess Hecate. As she ruefully notes in the present, she was once again that twelve-year-old girl, but this time with a Titan slipping into her bed instead. This prompted her to defect from the Blacktongues.
Dark Is Evil: Hecate's followers are called Blacktongues and fittingly are associated with darkness with Medea being the exception.

One clue that Pelias is one of them is that he wears black and looks positively sinister

.
11th-Hour Superpower:

The Golden Fleece Armor maxes out Jason's attributes and gives him constant health regeneration. It also gives off a constant golden radiance that makes him look virtually divine

.
Hollywood Tone-Deaf: Bolo, an orphan on Mycenae, has an atrocious song/sales pitch. Sitting through the whole thing is a deed worthy of the gods.
Home-Run Hitter: Occasionally, mace finishing blows will knock the target's ragdoll a ridiculous distance.
Honor Before Reason: Some Kythrans take Athena's virtues as irrefutable laws.
To a lesser extent, Athena-favoured choices can also result in this, since Athena favors "just" choices, which in general means "doing the right thing." Of course sometimes "doing the right thing" means declaring someone guilty, but when it doesn't, Athena choices can also pet the dog.
---