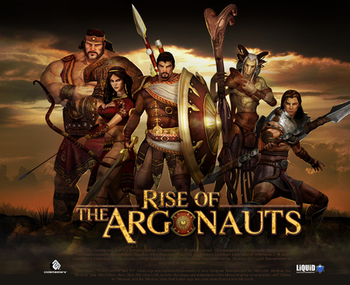 Rise of the Argonauts is a Multi-Platform video game based off of the myth of Jason and the Argonauts, developed by Liquid Entertainment and published in 2008 by Codemasters.
When his bride-to-be Alceme is murdered, King Jason of Iolcus sets out to find the Golden Fleece, which is said to have the power to raise the dead. Apollo's oracle tells Jason that he must find the bloodlines of Ares, Athena, and Hermes to open the path to where the Fleece is located. Along the way he encounters and recruits powerful warriors and allies in his quest to resurrect his wife and defeat the dangerous madmen who threaten all of Greece.
Rise of the Argonauts is built around a conversation tree system similar to the one in Mass Effect, with choices drawing from the virtues of Ares, Athena, Apollo, and Hermes. The gods also have favored weapons, respectively the mace, spear, shield, and sword, all of which Jason carries into battle.
---
Tropes appearing in this game:
---