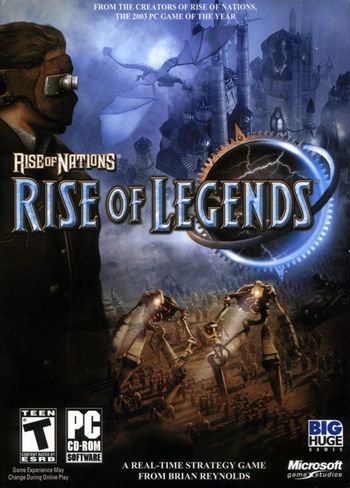 Rise of Legends
is a
Spiritual Successor
to
Rise of Nations
created in 2006 by Big Huge Games, creators of the previous game. Instead of being set on Earth, it is set on the world of Aio, a world of technology and magic.
The campaign follows the adventures of an inventor named Giacomo. On his way to recover a mysterious artifact for study, his brother Petruzzo is killed by the Doge, an archetypal Evil Overlord who wants the technology for himself. Giacomo begins a quest for vengeance against the Doge and finally has his revenge, though not before getting caught up in a struggle with mysterious creatures made of glass, which ends when Giacomo and his allies find their leader, a corrupted genie, and bring him back to the side of good. At this juncture it turns out that the Doge was merely a pawn of more powerful and terrifying entities, whose technology was also responsible for the corruption of said genie. Giacomo thus sets out to defeat them in turn, but things go decidedly bad for him in the process.
Gameplay-wise, Legends isn't expecially similar to Rise of Nations despite using its name as a prefix: Nations imported a lot of ideas from the 4X genre, a lot of which Legends discarded in favour of fast-paced RTS combat and resource competition, taking a lot of its ideas from StarCraft. Gone are the non-military win conditions, the emphasis on research, the proliferation of resources and the large roster of playable nations. Legends isn't a terribly ambitious product, but it's still very fun to play and has more strategy than many give it credit for. For instance, ships plying the enemy's trade routes can be shot down, slowing down their economy; cities are not founded but captured, either from other players or from neutral creeps; there are non-city "outpost" locations which you can gain control of and give you gameplay bonuses (in the form of resources or access to new units); and said neutral locations can be purchased as well as conquered, at which point its neutral creeps join your army.
The player has a choice of three different factions, each one a custom counterpart of the three races from StarCraft:
The Vinci: Similar to the Terran race. Combining the culture of Renaissance Italy with a Steampunk aesthetic, the Vinci are technology purists who start their matches with footsoldiers supported by clockwork robots and finish with massive machines of war, ranging from large tanks to a giant spider-like robot called a Land Leviathan. Through the accumulation of prototype units and/or general purpose unit upgrades they can bolster their standing army while building Research Labs which upgrade to custom utility buildings which get very useful in the late game.
The Alin: Similar to the Zerg race. An "Arabian Nights" Days-style civiliation with copious amounts of mythological creatures added to the mix, the Alin are a mystical people with power over sand, fire and glass. Their strength lies in their mastery of Summon Magic, which allows them to dominate the early game of any match by spamming cheap footmen and mounted units and overwhelm their rivals through a mixture of raw power, dirty tactics and sheer numbers.
The Cuotl: Similar to the Protoss race. What you'd get if you crossed Mayincatec with Religion is Magic, the Cuotl are jungle tribesmen empowered by Ancient Astronauts/Sufficiently Advanced Aliens à la Chariot of the Gods. The Cuotl "Gods" boast mysterious stone-based technology so advanced that they easily convinced their followers it was magic, though the power of the Cuotl people's worship and faith apparently bolsters the power of said technology. This technology includes jaguars with sun-like beam attacks, snakes which poison their victims with every attack and eagle-like flying machines.
---
Tropes found in the game include:
---