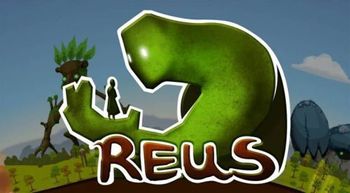 Reus
is a 2013
PC
game by Dutch indie developer
Abbey Games
, later ported to
Playstation 4
and
Xbox One
in 2016. The game mixes elements of puzzle and god games by having the player try to make a planet as habitable as possible for humans. This is achieved by controlling four Giants that can essentially shape the environment at will. The Giants are, for all intents and purposes,
Physical Gods
; they raise mountains, dig deep oceans and create plants and animals with little more than a wave of their hands. The Giants are:
The Forest Giant: A lanky, simian figure made out of moss, leaves and living wood, the Forest Giant can create nutritious plants for the humans to enjoy. Can create the forest biome if the land has access to water.
The Ocean Giant: A rocky, barnacled, crab-like titan with enormous claws for hands, the Ocean Giant can create oceans and certain animals that can be domesticated by humans.
The Rock Giant: Essentially a walking mountain, the Rock Giant can raise mountains, which causes the surrounding land to dry out, creating the desert biome beneath them. Can place mineral deposits, which can either be a source of wealth or technological development for humans.
The Swamp Giant: A lumbering tower of swamp-water and festering biomass, the Swamp Giant can create exotic animals and certain herbs. Can create the swamp biome on land that has access to water.
Reus contains examples of:
---