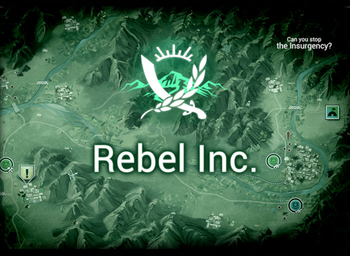 Rebel Inc.
is a 2018
iOS
game from the developers of the highly acclaimed game
Plague Inc.
, Ndemic Creations. An
Updated Re-release
titled
Rebel Inc.: Escalation
launched on October 15th, 2019 for
PC
as well. While
Rebel Inc.
is visually similar to
Plague Inc.
, the gameplay differs significantly.
The game takes place in the aftermath of an international invasion of a unnamed but thematically Central Asian countrynote A lawyer-friendly version of Afghanistan with a lesser extent to Iraq. With the fighting in the chosen region over, the player is assigned as the governor of that area. The goal of each mission is to develop and stabilize all the zones of that region, while dealing with insurgents and keeping your reputation from dropping to zero.
---
Rebel Inc. provides examples of:
---