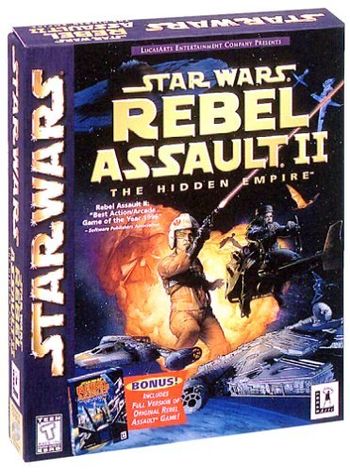 Star Wars: Rebel Assault
(and its sequel,
The Hidden Empire
) are a pair of
Star Wars Legends
video games published by
LucasArts
in the early 1990's. Notable for combining elements of a
rail shooter
and a live-action movie, the games put players into the shoes of Rookie One, a young X-Wing pilot who helps the Rebel Alliance during several major events and battles in the
Star Wars
saga.
Rebel Assault (1993) was the first CD-ROM-only game published by LucasArts. Set during the early Galactic Civil War, players controlled the adventures of an unnamed young person (known by their callsign, Rookie One). The game takes place during the events of A New Hope, and allows you to visit several key locations from the first two films (including Beggar's Canyon, Hoth and the Death Star).
Rebel Assault II: The Hidden Empire (1995) was notable for being the first major piece of Star Wars media to incorporate live-action footage since Return of the Jedi. In the sequel, Rookie One and and fellow X-Wing pilot/Action Girl Ru Murleen team up to infiltrate a Super Star Destroyer and steal the prototype for a new TIE Fighter called Phantom, which could turn the tide of the Galactic Civil War if used in the wrong hands.
The gameplay consisted of various spaceflight missions that recreated famous scenes from the movies, and were mainly confined in a certain video looping. The course of the ship was predetermined and the player had to hit the targets (usually TIE fighters) that appeared onscreen; however, the player could partially control and steer the ship so that it wouldn't collide with obstacles and lose hit points. In a few stages, there were branching points, but most stages consisted of a straight run through to the end point or of a looping area that played until all targets were destroyed.
Although the scenario, the plot, and the variety of missions were considered neither original nor rich, the game was valued for its technical details, since it featured digitized footage (albeit limited, most replaced by CGI rendered sequences), music from the original movies, and full speech. Rebel Assault is one of the oldest titles to make use of extensive full motion video on the PC.
---
This series provides examples of:
---