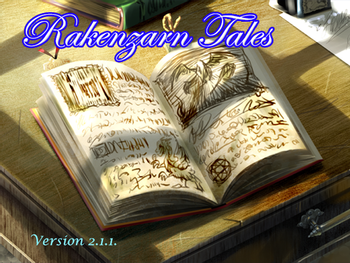 "Fantasy becomes reality... And reality ends..."
Rakenzarn Tales is a fan game made with RPG Maker made by Dark Kyu.
The story begins with Kyuu Renjo/Kyros Tanazuki, minding the home while their folks is away on business. After a series of odd events, they come across a book labeled Rakenzarn Tales. Though they find this book freaky, their curiosity causes them to give it a glance and they soon find themselves teleported within the book.
Our hero finds himself in the world of Rakenzarn, where all fictional characters live. Just as they begin to take in the enormity of this situation, it turns out Rakenzarn is in the midst of a crisis as various plagues have been unleashed upon the land by Ganondorf and his Saint Lords. Unable to go home and equally unable to ignore this problem, they soon find themselves joining a party (Kyros joins a guild while Kyuu joins a detective agency) to learn the reason behind these attacks and about the mysterious book which brought them there.
However, unbeknownst to Kyuu/Kyros, the book contains a dark history and has a connection with him, which may endanger his very existence.
The game is notable for being a massive Massively Multiplayer Crossover between several unrelated anime, game and cartoon series.
You can learn more of the game's wiki
or Dark Kyu's DeviantArt account.
You can also view a playthrough of the game here.
There is also a Let's Play of Version 2.1.1, with some feedback done by a youtuber called DoominaBottle. Find it here.
He also does a Let's Play of Version 4, which you can find it here
. And if you want to try it out, the download is here.
Simultaneously, Dark Kyu is working on a Spin-Off called Rakenzarn Frontier Story, starring Makoto Naegi. However, this is a different, self-contained story with no links to the main game.
A second Spin-Off has been announced called Rakenzarn Seigi. It will focus on the Henshin Hero genre.
Warning! Of course, there are spoilers below and on the other pages of this wiki. If you are interested and want to try it, it's best to play it before reading, as a lot of the tropes discussed here spoil one of the game's early twists.
---
Tropes in Rakenzarn Tales may include, but aren't limited to:
open/close all folders
# to H
I to Q
R to Z