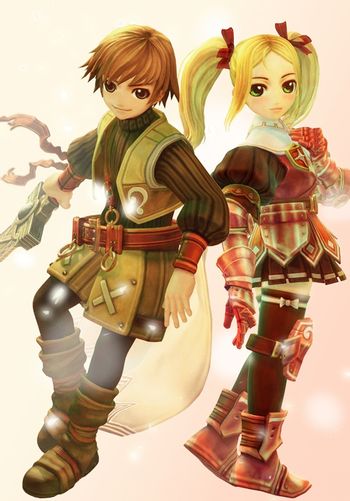 Radiata Stories
is a
role-playing game
developed by
tri-Ace
and published by
Square Enix
for the
PlayStation 2
in 2005. The game is notable for its large number of distinct NPCs, each of whom have their own lives, lifestyles, jobs, personalities, homes, dialogues, and schedules. It's also notable for its high content of humor despite having a pretty serious story.
While there are easily over 150 distinct recruitable characters in the game, there are only three that are central to the plot: Jack Russell, a rude, cheerful teenager who plans on being a knight; Ridley Silverlake, a smart, proper, well-off young lady who wants nothing to do with him (at least at first); and Ganz Rothschild, a polite, genteel man, who is their superior in the Rose Cochon brigade. This doesn't last long.
After one successful mission, what should be a simple Fetch Quest goes awry and Ridley suffers a debilitating injury to the point where she's bedridden. As a consequence for their failure to protect her, both Jack and Ganz are expelled from the knighthood because of her Knight Templar Parent. From there, they both try to join Theater Vancoor, the warrior guild, but Ganz fails the test and ends up in the Void Community (the thief guild) instead.
As Jack and Ganz try to adjust to their new lives, a series of seemingly unrelated incidents begins to occur. Ridley begins experiencing strange headaches and speaking in a voice that is not her own. The dreaded disease algandars, said to be the only thing capable of fully killing the immortal elves, makes a reappearance after being gone for centuries. Tensions between the humans and non-humans skyrocket as three particular individuals become prominent in the politics of Radiata: Zane, human-hating leader of the light elves; Lucian, a mysterious courtesan of Radiata Castle who displays frightening Chessmaster capabilities; and Cross Ward, Ridley's Jerkass fiancé.
The game takes place in real time, albeit with the typical video game compression. While many games incorporate some method of this, Radiata Stories is one of the few where keeping track of the hour is crucial to gameplay, due to the fact that the majority of "free time" between missions provides only brief snatches where Jack is able to interact with other characters and the like before setting out once more. Furthering the theme of realism, Jack can interact with most objects in the game, mostly by kicking them.
Not to be confused with Radiant Historia, a similarly-named game that inherited a large portion of Radiata's production team.
This game provides examples of the following:
---