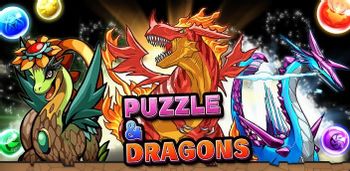 Puzzle & Dragons (shortened to PazuDora in Japanese or PAD in English) is a Japanese puzzle/role-playing game for iOS, Android, and Kindle Fire, developed and published by Gung Ho Online Entertainment. Puzzle & Dragons is overwhelmingly popular in Japan, making a profit of US$54 million a month. To put it in perspective, over the course of 2013 Gungho's profit had (at one point) exceeded that of Nintendo, largely by this game alone. And according to App Annie's 2013 Retrospective Report
, its revenue in 2013 had even surpassed Candy Crush Saga. In general, it is considered the game to have really caused the "Gacha Games" to really take off, especially in Japan.
The player has a team of monsters, and explores dungeons to fight other monsters. To attack, the player must line up three or more orbs of the same element. However, unlike other match-three games, the game allows freedom to move the selected orb and swap it with its surrounding orbs for a certain amount of time. This allows the execution of combos, which are central to gameplay. As in Pokémon, defeated monsters may be caught by the player and used on his own team. Each monster has an element, and each element has a strength or weakness toward another. The gameplay itself is rather straightforward, but creating a strong and rounded team of monsters can take a lot of time, with some monsters being much more powerful and rarer than the others. Their individual abilities, whether active or passive, can dictate to a large degree damage done and received in battle.
Despite being very, very popular in Asia, the game remains relatively obscure in North America due to the lack of an initial English release, but now the game has been out for 3 years internationally for North America, Europe (EU shares a single server, but the game language can be individually set to English, French, German, Italian, or Spanish), South Korea, and Hong Kong and Taiwan (also sharing a server because both regions use the same form of written Chinese). As of January 2016, the game has achieved 50 million downloads worldwide (only counting store downloads), with 39 million in Japan, 9 million in North America, and 2 million in each of South Korea, Hong Kong and Taiwan, and Europe. The Japanese edition celebrated its 5th anniversary in February 2017.
Puzzle & Dragons has seen many different spinoffs on various platforms:
Puzzle & Dragons Challenge (PazuChare) is a separate app mostly used by GungHo for tournaments and their live events, where players have 5 minutes to clear a wave of powerful monsters for a score, using a preset team. It's periodically available for free. The game's producer announced that it will be retooled to be a sister app and allow players to make up their own dungeons for friends to try their hands at.
Puzzle & Dragons Z (PADZ), a more traditional (as in it has trading, and no in-app purchases... at least, not like the original game) RPG title, has been released for the Nintendo 3DS.
Puzzle & Dragons: Battle Tournament (PADBT or PazuBato) is an arcade version of PAD released in Japan, in collaboration with Square Enix. It's also more of an RPG and player data is saved via IC Chip cards, but its main draw is real time player vs. player gameplay.
Puzzle & Dragons W (PADW) is a side game in the main PAD app geared more towards a more traditional puzzle game and features the TAMADRA mascot character. Its main draw is that it shares its account with the main game, which means any premium items you win in PADW are carried over to PAD.
Puzzle & Dragons Z: Tamer Battle is another arcade game based on PADZ that uses an IC card save system and collectible "tickets" for players to collect and save monsters. As of 2016, it is slowly being sunsetted in Japan.
A Puzzle & Dragons: Trading Card Game (PAD TCG) was also released in early 2015. It's somehow a match-three that uses Orb symbols on the bottom of each card in the game. It went out of print in 2016.
Puzzle & Dragons: Super Mario Bros. Edition (PazuMari in Japanese) is a Super Mario Bros. themed version made for the Nintendo 3DS. This was packaged with PADZ for an international release in May 2015. An update patch in December 2015 for all regions adds new Score Attack courses and online leaderboards for those courses.
Puzzle & Dragons Battle (PADB), originally Puzzle & Dragons Radar (PADR), is a companion app to PAD. Based on your GPS location, you can collect Treasures that be traded in for fairly rare monsters or access to one of the weekday/weekend dungeons on a different day or a particular hourly dungeon. It has also been used to distribute new super difficult dungeons. Armor Drop toys for PADX and Monster Memory toys for PAD have QR codes that can be scanned to obtain particularly rare monsters in the main PAD game, as well as for the new PVP mode that was introduced in 2018. Just in time for PAD to partner with the Japan eSports Union as one of their official games. In the PVP mode, players use the Armors or unique Leader monsters as well as Team monsters they've collected through searches, gacha, or scanning QR codes to fight each other. This system was itself based off the PVP system in...
Puzzle & Dragons X (PADX or PazuKuro in Japanese; X is read as "Cross") was released in 2016 for the 3DS. Set up as an RPG like PADZ, this time instead of Leader Monsters, players obtain Soul Armors that bestow the power of a monster on the main character. It had an anime adaptation that started in Summer 2016.
PazuDora, a project starting in in February 2018 that consists of a Manga in CoroCoro Comic by Momota Inoue (he wrote the manga adaptations of PADZ and PADX) and an anime in Summer 2018, as the follow up to PADX. It is essentially PAD's take on a kids' Collectible Card Game anime but it ties into their new Professional Gaming branding of PAD Radar with its PVP mode.
Puzzle & Dragons Gold (PAD GOLD or Pazu-Kin) released in 2020 on the Nintendo Switch as a Nintendo eShop title, as a port of the PAD Radar PVP system with the theming of (and story mode based on) the PAD eSports-themed anime, but this time featuring 3D modeled monsters in HD. And in a rare turn of events it's not a Japan exclusive release.
Puzzle & Dragons Nintendo Switch Edition, released worldwide on Nintendo Switch on February 19 or 20, 2022 (depending on region). Notably, players field pre-made teams instead of having teams that can be customized.
The main web site is here
. Japanese site is here
.
Has no relations with the Capcom quiz game, Quiz & Dragons.
---
Puzzle & Dragons contains examples of the following tropes:
open/close all folders
The Series
The Original Game
Puzzle & Dragons Z
A Father to His Men: Captain Watari, despite commanding over 10,000 Tamers. He even gives Sara the option to bail out of a particular mission when it's discovered that their next target is

Sara's old friend.

Fetch Quest: To a very frustrating degree. They only appear in treasure boxes, but you'd be quitting and re-entering dungeons many times until you actually get the quest item instead of a rune or D-Energy.
Puzzle and Dragons: Super Mario Bros Edition
---